Design Trends and Inspiration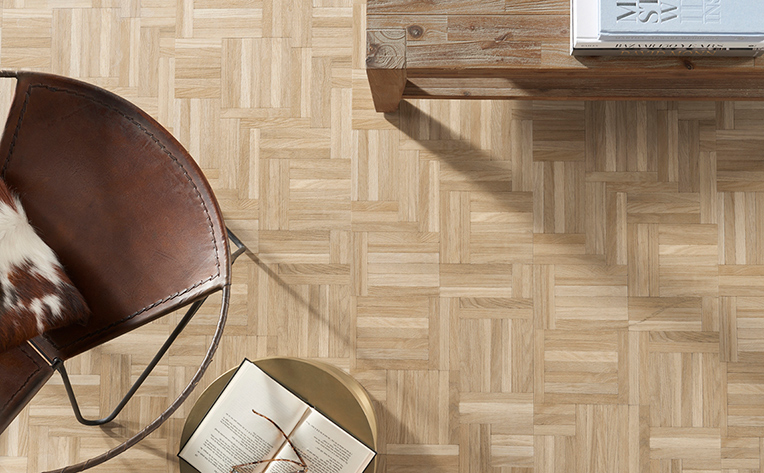 Feb 24, 2020
A new year is here. Is your home up to date for the decade? If the answer is no, don't worry: we're here to help, and your floors are the perfect place to start! Follow along as we explore some of the most popular trends in flooring for 2020, this year's hottest colors, materials, patterns, and more. Stay current and impress your guests with these stylish flooring ideas for every room in your home or apartment.
Interior Flooring Trends for 2020
Luxury Vinyl Tile (LVT) & Luxury Vinyl Plank (LVP) Flooring Trends Rise in 2020
You're already familiar with traditional flooring materials like hardwood and wall-to-wall carpeting. Now, get ready to meet two of the newest (and most popular) products to hit the consumer market: luxury vinyl tile (LVT) and luxury vinyl plank (LVP). These durable, cutting-edge products are waterproof, easy-to-clean, and scratch-resistant, which makes them ideal for:
Busy professionals who don't have time for heavy-duty maintenance

Families with pets or young children

Use in damp environments like bathrooms

Use in areas with heavy foot-traffic
With so many versatile uses and features, it's no wonder LVT and LVP flooring brands are both smash design hits for 2020.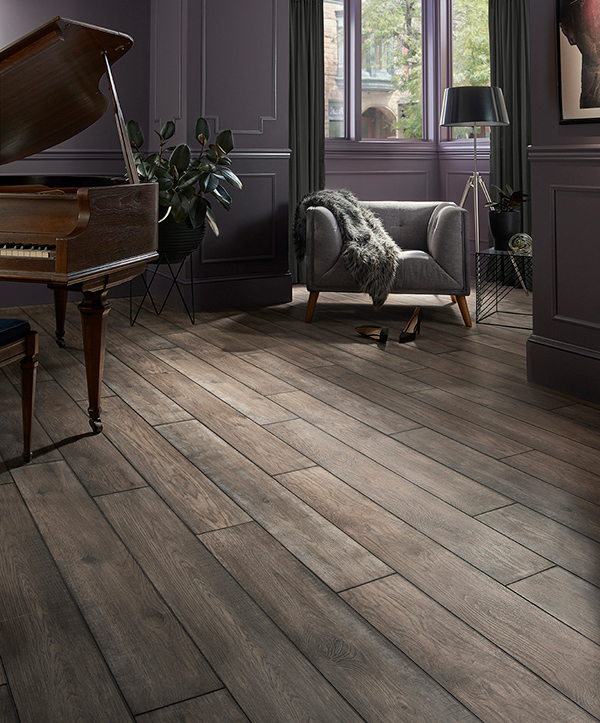 Engineered vs. Hardwood Flooring in 2020
Hardwood floors, or engineered wood? That question is shaping up to be one of the biggest design battles of 2020. Fortunately, both sides are so stylish there's really no way to lose. The question is, which product is right for your home?
Sustainably harvested hardwood floors are gorgeous, eco-friendly, and in perpetual demand; but some varieties can be costly. Engineered wood is a cost-conscious alternative, ideal for budget makeovers! Read more about the uses and benefits of engineered flooring, or just ask one of our team members.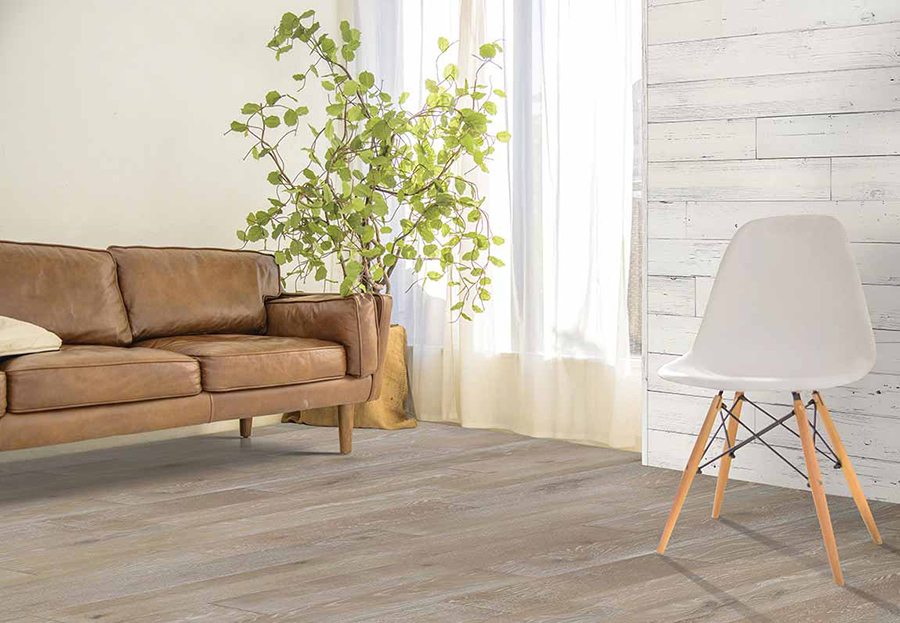 2020 Flooring Trends For Colors, Stains, Shades & Tones
Contemporary flooring is available in virtually any color you can imagine, from understated earth tones to bright and funky electric hues. The real challenge isn't finding a color — it's picking out your favorite!
Having trouble whittling down your top few choices? Here are some 2020 flooring color trends that might help you make a decision:
Grey shades

Light, blonde stains and tones

Warm, honey-toned shades

White and off-white shades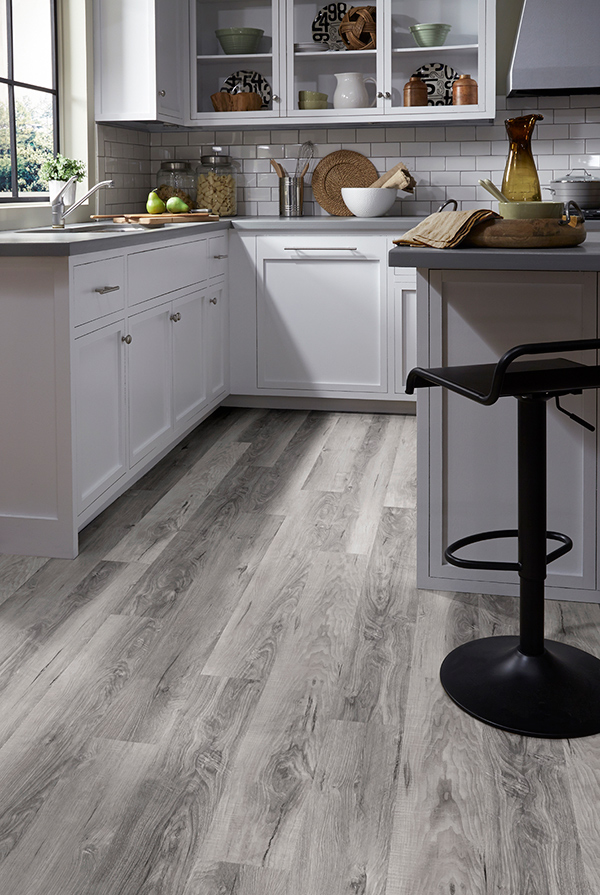 Grain Pattern Trends for Floors
"Grain pattern" refers to the random assortment of lines, knots, streaks, and whorls that appear in wood planks. Grain patterns are just as important as the colors and materials you choose, since different patterns can radically alter the appearance and visual "texture" of the wood.
Of course, grain patterns aren't only found in natural products. They can also be designed, giving engineered floors an earthy, hand-crafted look that's virtually impossible to distinguish from the real thing.
Whether you choose hardwood or engineered wood, here are some popular wood grain patterns trending this year:
Distressed patterns, which are meant to look rough and rustic

Handscraped patterns, which offer a high level of craftsmanship and variation between planks

Wire brushed patterns, which are slightly smoother and less irregular than the other two options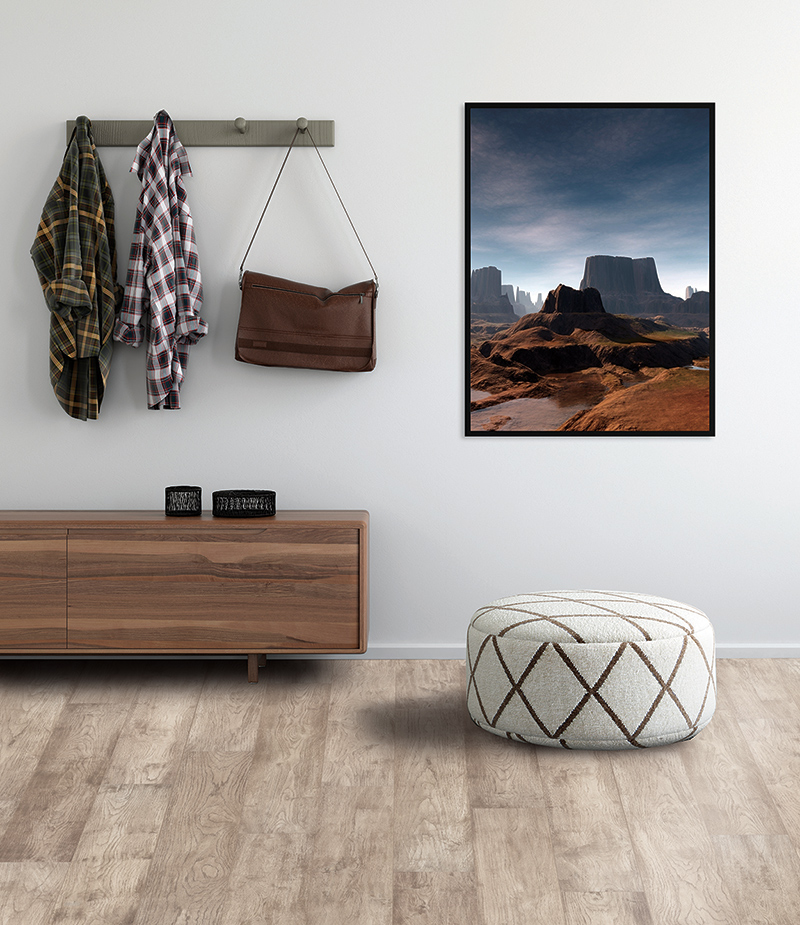 Installation Pattern Trends for Your Floors
Not to be confused with grain pattern (which refers to the markings on each plank or board), "installation pattern" describes the physical arrangement of tiles or planks. For example, tiles or planks can be arranged in a square grid, or, for a bolder and more modern look, a zig-zagging chevron pattern.
One of the hottest installation patterns for 2020 is herringbone, which simulates a woven or braided look by adjoining a series of planks at 90-degree angles. If you like the look of wicker furniture, handwoven baskets, or handmade quilts, herringbone will be perfect for you.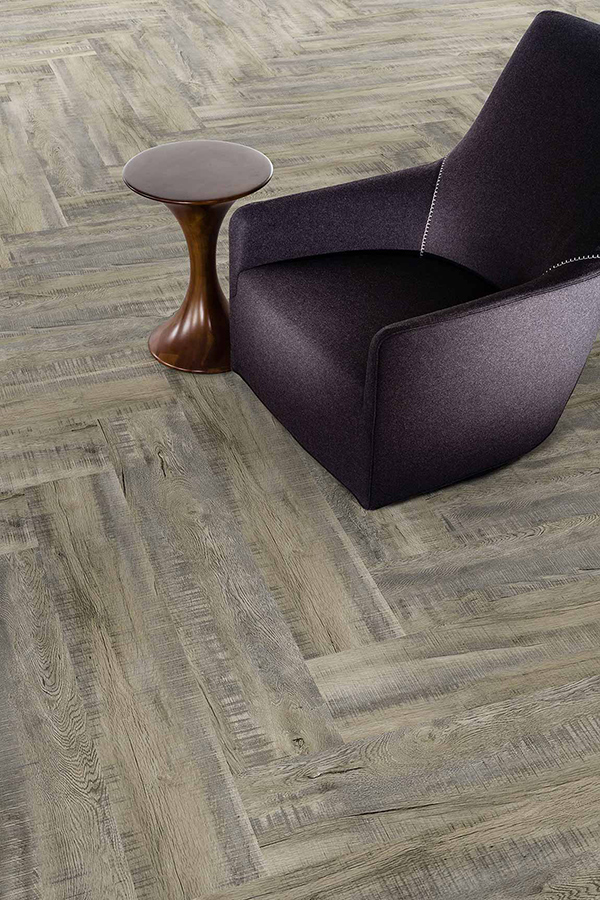 Shake off the old year and ring in the new year with a fresh, revitalized look for your flooring. From the bathroom to the bedroom to the kitchen and beyond, Flooring America offers it all, from hot new innovations to classic, timeless best-sellers.
Find the perfect floors for your home with My Design Finder, or simply ask one of our friendly, knowledgeable team members for a recommendation. We're on a mission to transform your house into your home, for 2020 and beyond. Contact us online today, or visit one of our retail locations to browse thousands of products in person.
Continue Reading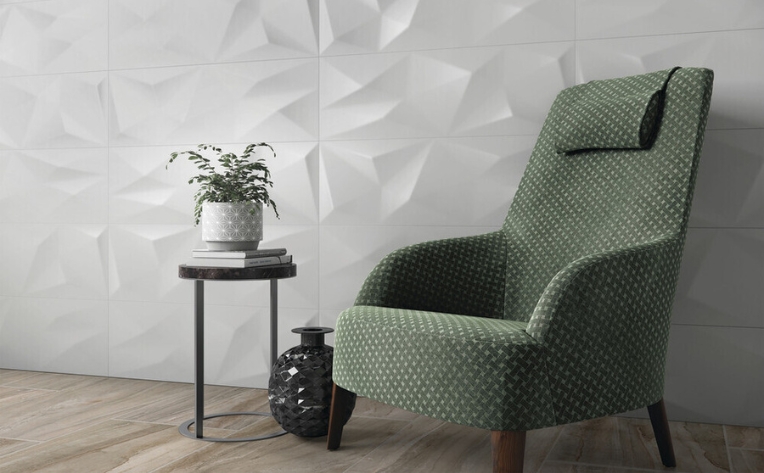 Feb 17, 2020
For most Americans, food plays a huge role in our new year's resolutions. Whether your goal is to get fit, sharpen your chef skills, or simply make family dinners a bigger part of your weeknight routine, you need a kitchen that excites and invites you — not just in January, but all year long. Reach your goals, wow your guests, and make your kitchen a space you love with these hot kitchen trends for 2020, from designs for your countertops to the hottest "must-haves" in home appliances.
Kitchen Design Trends to Inspire Your 2020 Remodel
Kitchen Backsplash Ideas for 2020
When it comes to 2020 kitchen designs, incorporating backsplash is essential. But what is backsplash tile, and what styles are available?
The word "backsplash" traditionally describes the space between the countertops and the bottoms of your cabinets. While its original purpose was simply to guard against splatters from cooking or washing the dishes, modern backsplash also has an aesthetic purpose, letting you showcase your personal style through all types of colors, designs, and patterns.
When used creatively, backsplash does for your kitchen what a statement wall does for your bedroom or living room. So what are some of the biggest kitchen backsplash trends dominating 2020? Forecasts include:
Bold, mosaic-like patterns, such as tiles in alternating colors or textures

Dark colors (which are also useful for making small kitchens look bigger)

Ceramic and porcelain tiles
Explore our blog for more backsplash tile ideas, or contact us to start chatting with one of our helpful team members.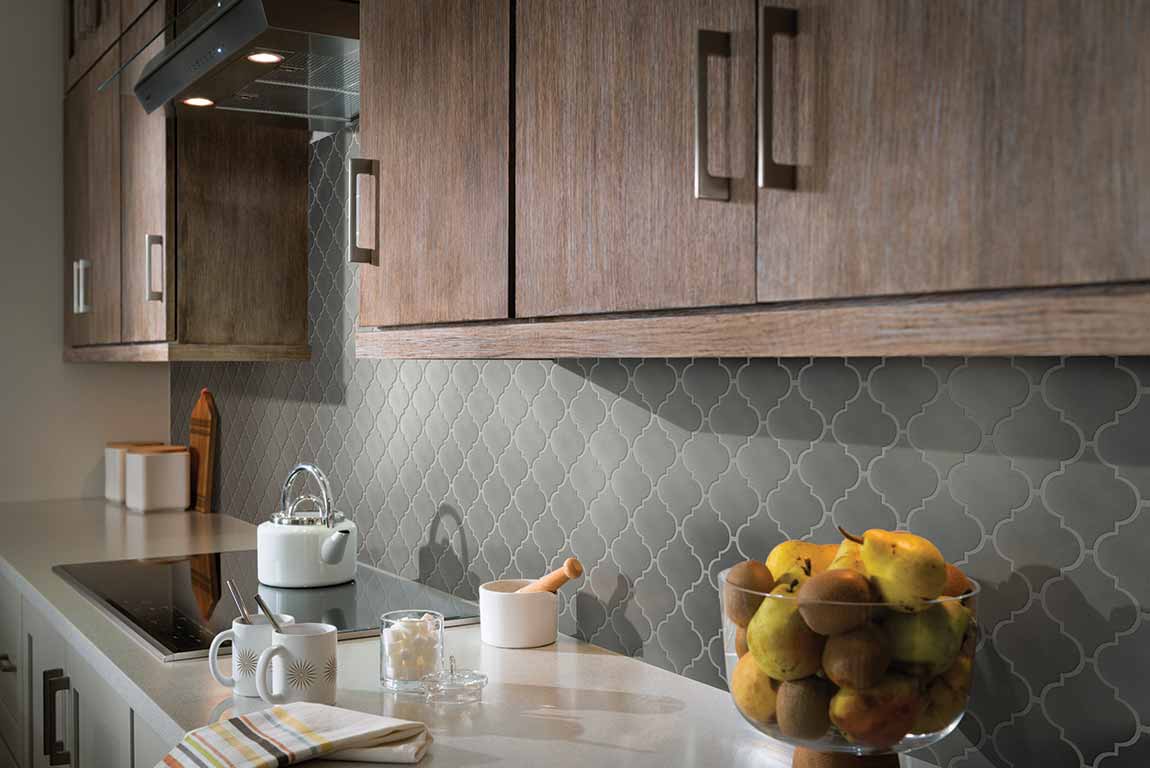 Trending Kitchen Countertops in 2020
Countertops are more than just surface area for cooking; they can also complement your backsplash, walls, floors, and cabinetry. Continuing the all-white kitchen trend that's burst onto the design scene in recent years, light-colored countertops are expected to be hot in 2020, especially varieties like marble and quartz.
Not only do these products look sophisticated — they're also ideally suited for kitchen use. Materials like stone and marble stay cool, resist moisture and resist physical wear-and-tear, making them both elegant and functional.

2020 Color Trends for Your Kitchen Cabinets
Spa-like, minimalist white? Striking, sophisticated black? A funky patterned wallpaper that's energizing and bright, or a solid pastel color that's soothing and serene?
There are truly limitless options when creating a palette for your kitchen, depending on your personal style preferences, pre-existing color schemes, and the mood or tone you'd like to set for the space. To help you narrow down your style choices, here are some hot and emerging cabinet and kitchen color trends for 2020:
Bright, lemony yellows

Turquoise and similar aqua blue shades

Various shades of green, including hunter green and avocado green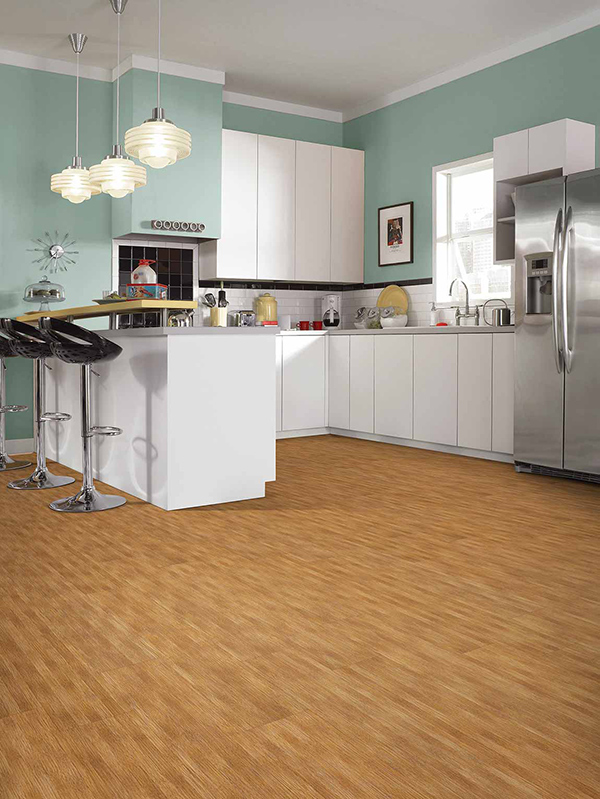 2020 Appliance Trends for Your Kitchen
Appliances make your chores faster and more efficient. They can also make your kitchen more beautiful, simplifying your life while bringing your style up-to-date.
Realtors, retailers, and researchers anticipate an upsurge in demand for environmentally-friendly appliances, which have gained popularity over the past decade. Other hot products to watch next year include mini dishwasher-sink combos, self-drying dishwashers, and appliances that connect with increasingly sophisticated "smart" devices (such as Google Home or the Amazon Echo).
You should also be on the lookout for stainless steel appliances or brightly colored appliances, which are expected to be major trends next year.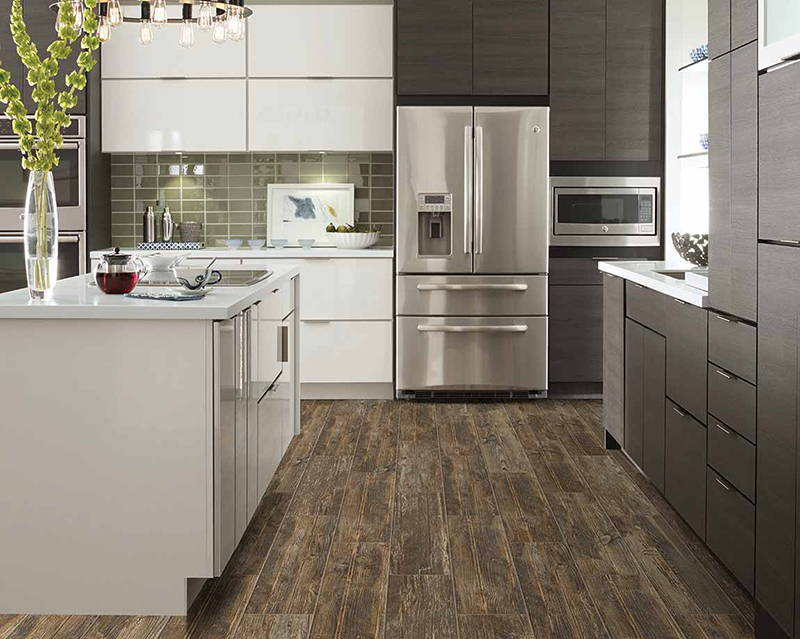 Kitchen Flooring Ideas Trending in 2020
Since they're used for cooking and baking, kitchens are prone to spills and accidents. Kitchens also tend to receive heavy foot-traffic, especially if they double as dining rooms.
You need a kitchen floor that will stand up to these challenges, but you also want something that looks and feels great. Fortunately for homeowners, most of the upcoming trends in flooring offer the best of both worlds. Consider one of these beautiful yet durable kitchen flooring ideas for 2020:
Longer, wider planks are becoming "the norm" for both hardwood and engineered wood products

Light colors are also growing in popularity, like shades of blonde or honey (instead of mahogany or Brazilian cherry)

Herringbone (i.e. woven) floor patterns are a major design trend to watch

Waterproof flooring, like luxury vinyl, is an anticipated best-seller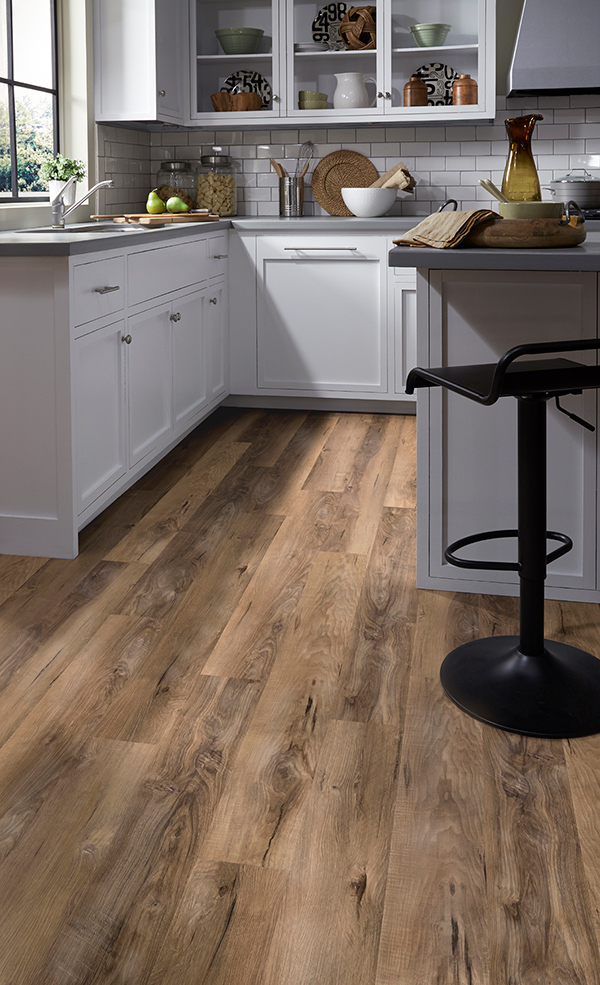 Use My Design Finder to Explore Trendy Kitchen Remodel Ideas for 2020
Whether you're shopping for kitchen appliances, lighting, countertops, flooring, backsplash tile, or other products, you'll find everything you're looking for at Flooring America. We carry and install thousands of top-rated products for your kitchen, including premium luxury flooring, eco-friendly flooring, waterproof hardwood flooring, and pet-friendly flooring.
Explore our kitchen products online, tour hundreds of unique virtual kitchens using My Design Finder, or visit one of our 500+ convenient locations in person. If you're ready for a kitchen makeover, we're ready to bring your plans to life.
Continue Reading
Feb 12, 2020
With a new year comes a new you, and doesn't the new you deserve a new space, too? Kick-off 2020 in style with a trendy, updated look for your home or apartment! To help you get inspired, we've put together a collection of fun and fresh home decor ideas for 2020. From the bathroom to the bedroom and beyond, these 2020 decorating trends will help you create a beautiful home to enjoy throughout the year.
Home Decor Style Ideas to Keep Your House Trending in 2020
How to Spot Home Decor Trends in 2020
Ready for an inspired new look, but not sure how to pick something trendy? Don't worry: there are plenty of great resources to help you stay current, making it easy to spot the hottest home decor trends for 2020. Some great examples to help you get started include:
Interior design magazines

Home makeover TV shows

Interviews with style experts

Professional design blogs
You can also watch trends develop in real-time by browsing hashtags or communities on social media, like Facebook, Instagram, and Pinterest, which make it effortless to follow the hottest fashions. While it takes a little more "detective work," you can even spot trends by browsing websites or discussion groups for industry professionals, such as realtors and interior decorators.
Now that you know how to spot design trends, let's take a closer look at some of the trendiest movements in home decor for 2020, one room at a time.
2020 Decorating Ideas for Your Living Room
According to realtors, homeowners are moving away from formal, polished living rooms and toward designs that are cozier, comfier, and more inviting. Here are some easy ways to make your living room look trendier and feel more relaxing:
Use soothing, serene color schemes, such as shades of green and blue.

Use texture in your home decor to make your living room softer and more inviting. For example, add faux fur pillows or plush, high-pile carpet, such as shag carpeting.

Decorate with natural elements, such as shells, wood, or stone. For example, hardwood floors bring an elegant touch of nature into your living room.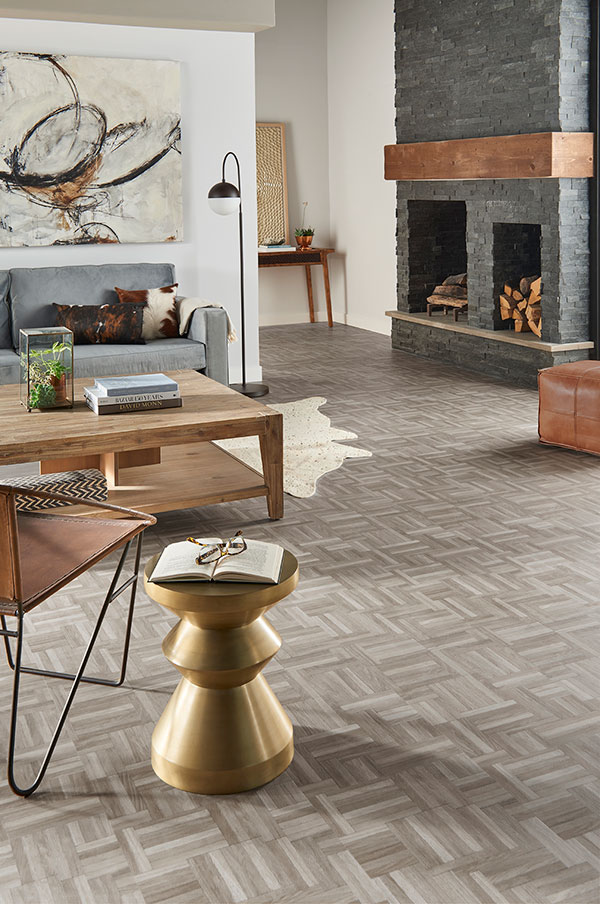 Kitchen Decor Trends for 2020
They call it the "heart of the home" for good reason! Full of warmth (and scrumptious smells), your kitchen is the perfect gathering place to spend time with friends and family. Dazzle your guests and showcase the space by incorporating these trendy kitchen decor ideas for 2020:
Have a professional help you install a kitchen island, which is just as practical as is trendy!

Design experts forecasted that warm, rustic tiles, such as terracotta, are trending. The more "hand-made" it looks, the better.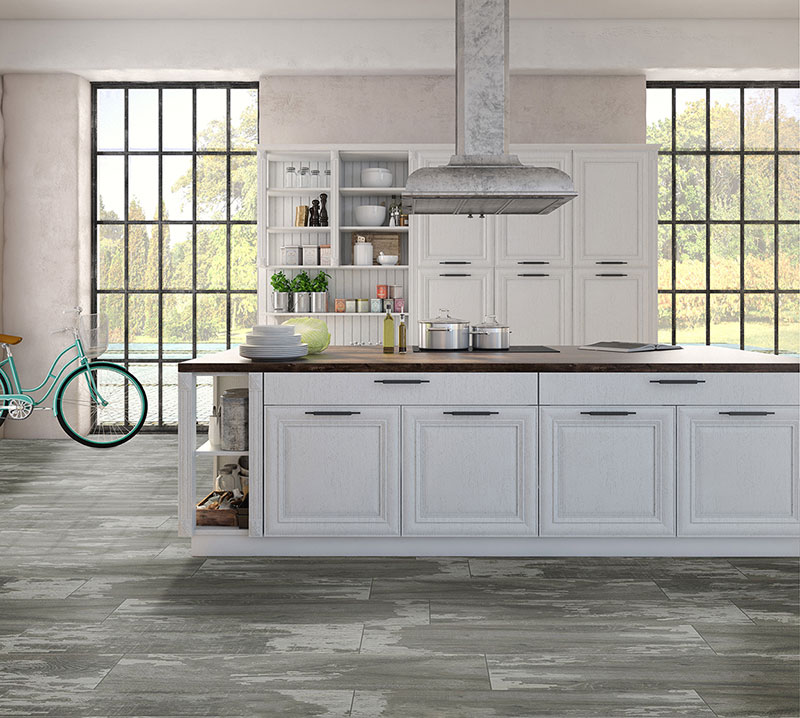 Bedroom Decor Ideas for 2020
Your bedroom is a retreat, your own private getaway from life's pressures and stresses. Shouldn't it be a space that you want to escape to? Give your bedroom a trendy transformation by putting these 2020 style forecasts into action:
Minimalism is hot — but getting it "right" is all about knowing when to add personal touches! Style experts recommend balancing clean, minimalist lines with whimsical, personal statement pieces, such as large artworks, patterned accent walls, or vibrantly colored pillows.
Neutral colors are another major bedroom style trend for 2020. More and more homeowners are choosing to decorate their bedrooms using hues of charcoal, eggshell, khaki, clay, espresso, and slate, which are unobtrusive and easy to blend with other colors.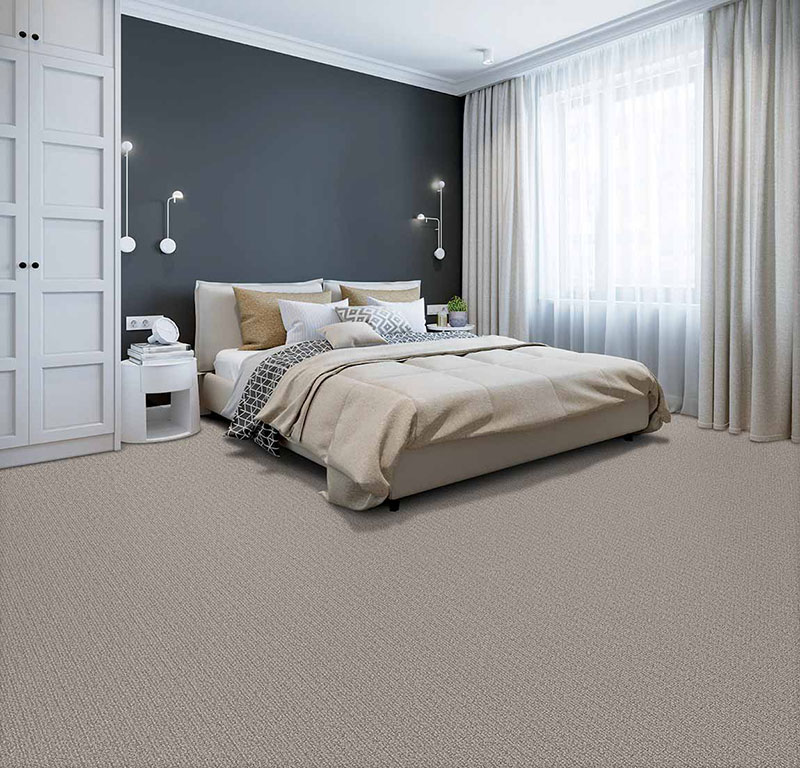 Bathroom Decor Trends for 2020
A bathroom is more than just a practical necessity — it's a space to refresh, revitalize, and rejuvenate. Elevate your bathroom to spa-like levels of luxury with these simple yet elegant bathroom decor ideas for 2020:
Design experts are forecasting that high-contrast themes, like white contrasted with black or espresso, will be trendy in 2020. With help from the right lighting, a splashy, confident color scheme can even help to make tight bathrooms feel bigger.

Sophisticated yet surprisingly durable, marble never goes out of style, appearing on "hottest looks" lists year after year. Seize the trend by installing marble flooring, or using marble slab for your shower. Since marble is water-resistant, it's a natural choice for many bathroom setups.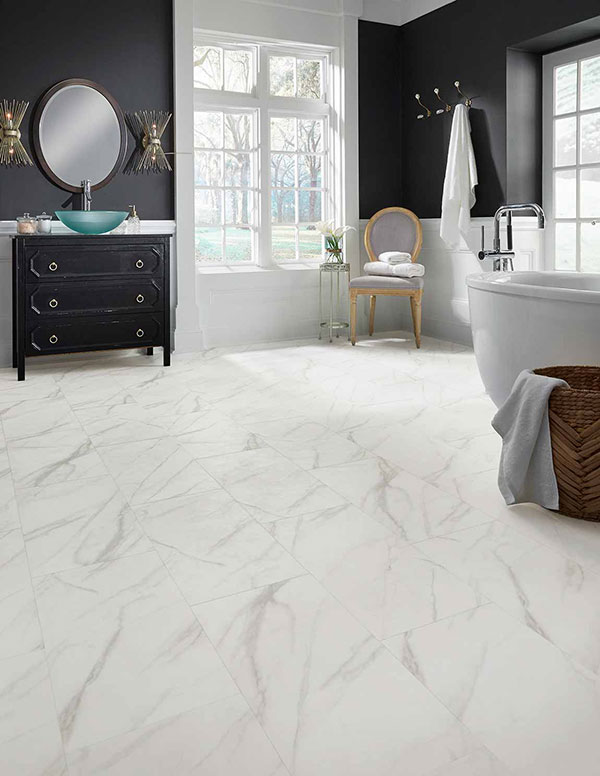 Find Trendy Home Decorating Styles for 2020
With My Design Finder, a world of exciting style trends is literally at your fingertips. Simply select your preferences to browse thousands of on-trend examples and get inspiration for 2020. Then, talk with one of our friendly and knowledgeable flooring experts about how we can help. Contact us online today, or visit one of our 500+ convenient retail locations.
Continue Reading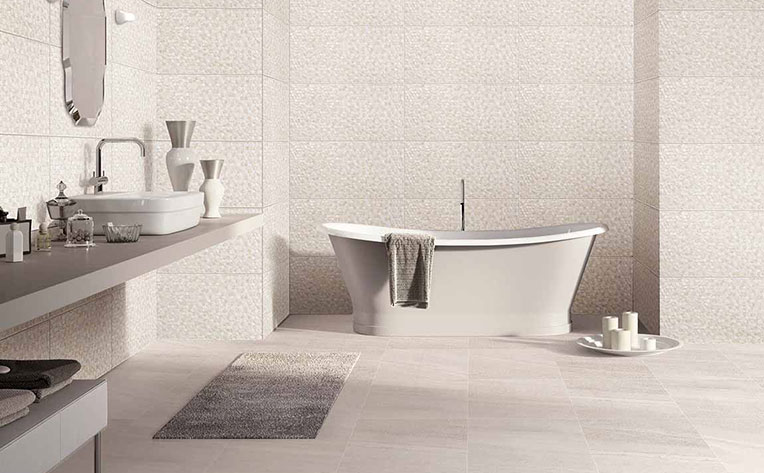 Feb 03, 2020
Say goodbye to boring bathrooms in 2020! The New Year has brought new styles with it, so we've put together some helpful design tips to help keep your home up to date. Follow along and find your remodeling inspiration as we explore some of the hottest 2020 bathroom trends that are coming our way this year, from flooring and fixtures to sinks, cabinets, colors, and more.
Bathroom Design Trends to Inspire Your 2020 Remodel
2020 Color Trends for Your Bathroom and its Cabinets
Color is one of the first details you notice when you enter a room. Since the bathroom is intended to be a space for relaxing and rejuvenating, it's important to choose a color palette that will set a calming mood.
According to design experts, trending bathroom paint colors for 2020 include pastel yellows, golden shades of champagne, and rich orange hues like clay and pumpkin. Incorporating these or other warm colors into your walls, cabinets, or decor will make your bathroom look more modern and feel more inviting, especially on those chilly winter nights!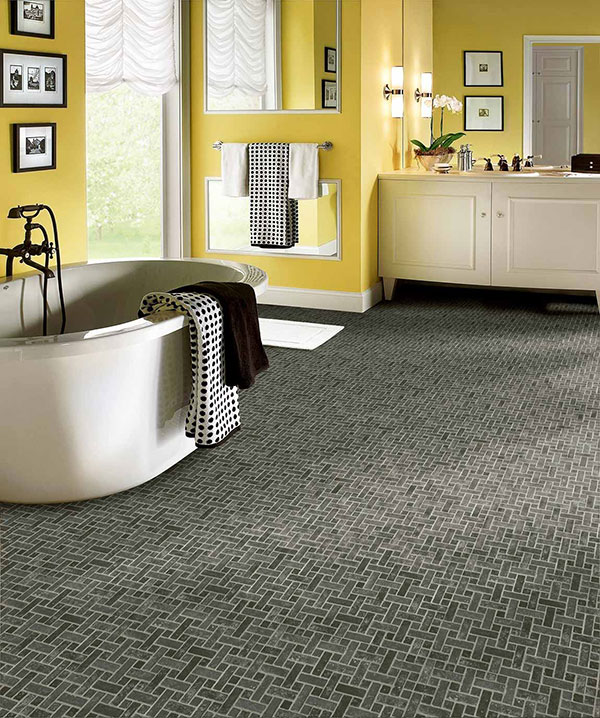 : Shower Ideas: What Tiles & Designs Are Trending in 2020?
Some design elements, like pieces of artwork or sheets of wallpaper, give you opportunities to experiment with bold and "crazy" decor. But when it comes to shower tile ideas for 2020, design experts recommend sticking to basics, trading extravagant patterns and colors for subtle, stately classics. Neutral colors are on-trend, which means you should look for shower tiles in colors like grey, white, tan, or black.
For a more modern and contemporary look, consider shower tiles that have a matte (non-reflective) finish, instead of the traditional glossy finish. A matte finish can also be a stylish choice for your bathroom cabinets — not just your shower tiles.
For homeowners who have adequate space, "open shower" and "open bathroom" concepts have become increasingly popular as shower designs for 2020. These unique layouts do away with added doors and walls, creating a more spacious and airy feeling. However, before constructing this type of bathroom in your home, it's important to plan for drainage and ventilation issues to avoid the accumulation of mold, moisture, or slime.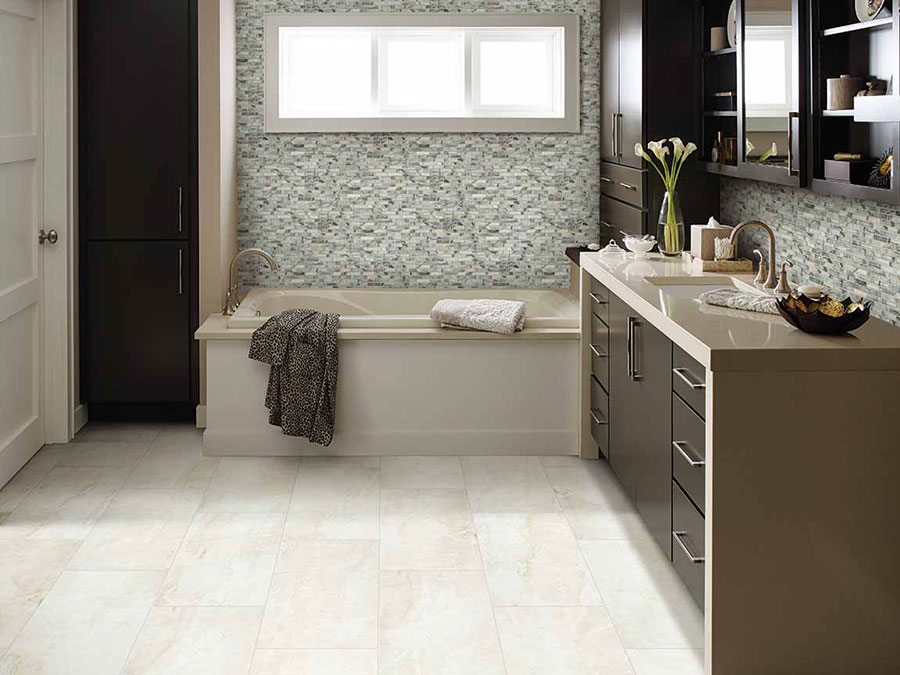 Bathroom Sink & Fixture Trends for 2020
Most of us think of sinks and fixtures as boring, practical features — but that's only half the story. These "bland" basics also double as unsung design heroes, with tons of style potential just waiting to be released! By putting care into these minor details, you can give your bathroom a major upgrade. Here are some of the biggest bathroom sink trends for 2020 that style and design experts are forecasting:
Natural materials

, like stone and marble

Standalone designs

, which can be positioned in corners to save space, or placed in the center of the room as a dramatic focal point

Use of terrazzo

, which features a mix of flecks of stone, glass, and other materials beneath a smooth, glazed finish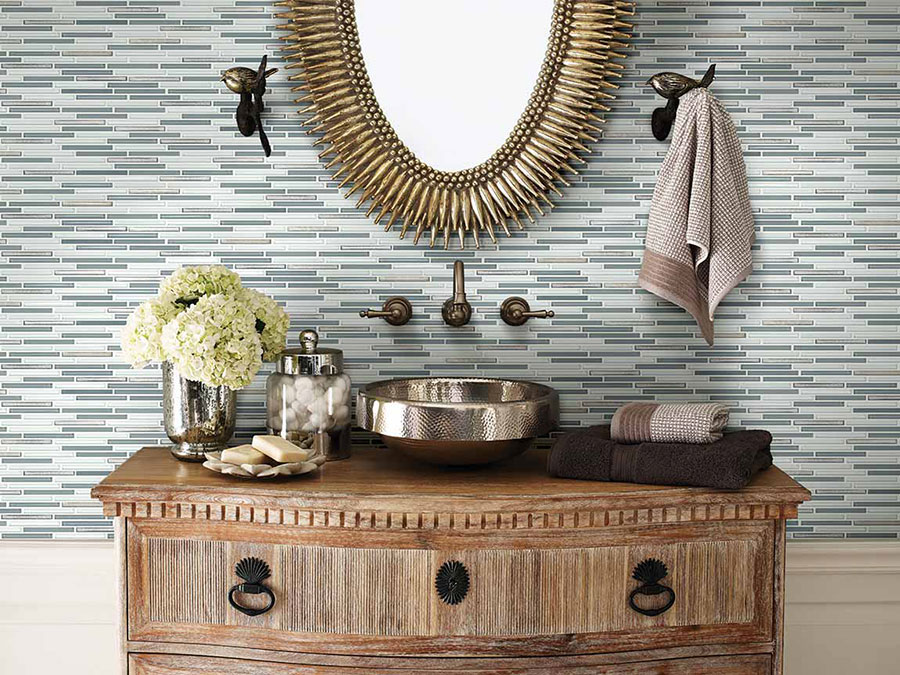 2020 Bathroom Floor Trends
Bathroom conditions can be tough on your flooring. Between the steamy showers, the damp footprints, the dripping towels, and the splashing tubs, bathroom floors face a lot of moisture — and most of them aren't up to the challenge.
Stay on-trend and avoid unnecessary home repairs by choosing a waterproof material that's as stylish as it is durable. Terrazzo is a clear winner in both categories, but might also have the potential to become costly. Another option is luxury vinyl tile (LVT), one of the most attractive yet most affordable bathroom floor trends of 2020. Look for products like Downs® H20, which offer waterproof protection and are available in a wide variety of custom styles, patterns, and colors.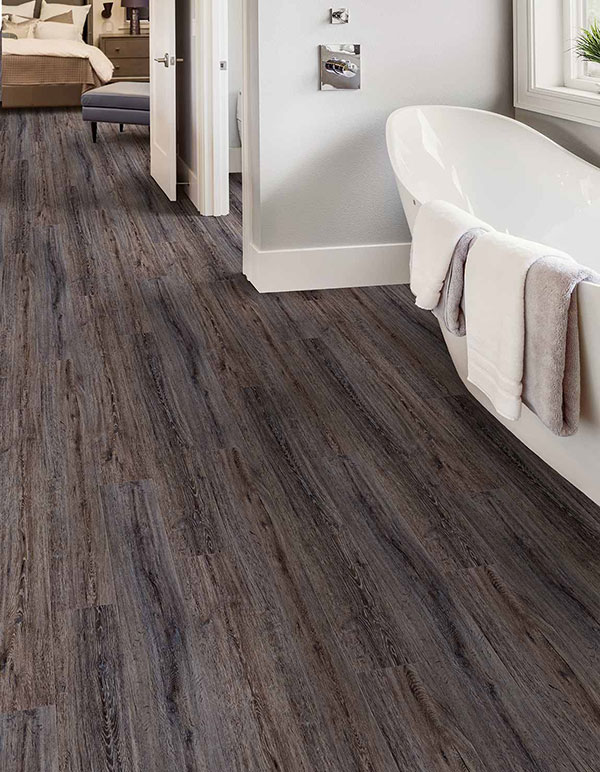 Get More Trendy Bathroom Remodel Ideas for 2020
Hopefully, these bathroom design trends for 2020 have helped give you a clearer idea of how to start your remodeling project. For even more decorating ideas, explore My Design Finder, where you can tour thousands of unique virtual bathrooms in styles that range from coastal to classic to contemporary and beyond.
No matter what your style is, we've got the bathroom flooring you're looking for. We can help you compare and install thousands of top-rated products, including eco-friendly, waterproof, and luxury bathroom flooring options. Contact us online to learn more, or visit one of our 500+ convenient retail locations across the United States.
Continue Reading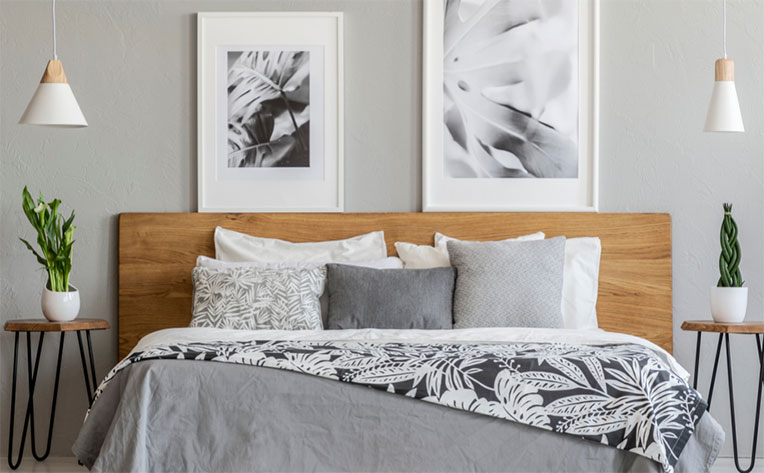 Jan 28, 2020
Back in March, our design blog covered the Color of the Year for 2019. With a new decade around the corner, we're back with an update for 2020! Move over, Living Coral: there's a new kid (or new color) on the block, with dozens of uses for any room in the home. Follow along as we reveal the Benjamin Moore Color of the Year for 2020, explore other trending paint colors to incorporate into your home, and offer some tips on decorating with color successfully.
The Interior Paint Color of the Year for 2020
Trending Popular Interior Paint Colors for 2020
Benjamin Moore is one of the country's largest and oldest paint companies, selling paints, stains, and related products since the 1880s. When it comes to the art and science of color, these are the experts you want to talk to!
That's why we wanted to find out which of its 3,500 paint colors the company would feature in 2020. We know you're just as curious, so let's get to the big reveal.
Drumroll, please! According to the company's official website, the Benjamin Moore 2020 Color of the Year is "First Light," a gentle baby pink evoking the earliest hints of sunrise. Here's how its creators describe it:
"A fresh palette. A revitalized spirit. A soft, rosy hue blooming with potential. Benjamin Moore's Color of the Year 2020, First Light 2102-70, is the backdrop for a bright new decade."
If baby pink isn't "your thing," don't worry — Benjamin Moore has already curated a stylish, easy-to-use palette for you. First Light is part of a 10-shade color scheme, the Color Trends 2020 Palette, which features shades of grey, taupe, and blue. These 2020 interior color trends include:
Blue Danube (2062-30)

Buxton Blue (HC-149)

Crystalline (AF-485)

Cushing Green (HC-125)

Golden Straw (2152-50)

Oxford Gray (2128-40)

Thunder (AF-685)

White Heron (OC-57)

Windmill Wings (2067-60)
These are expected to be some of the hottest and most popular interior paint colors of 2020. Now, let's explore some tips for incorporating them into your home!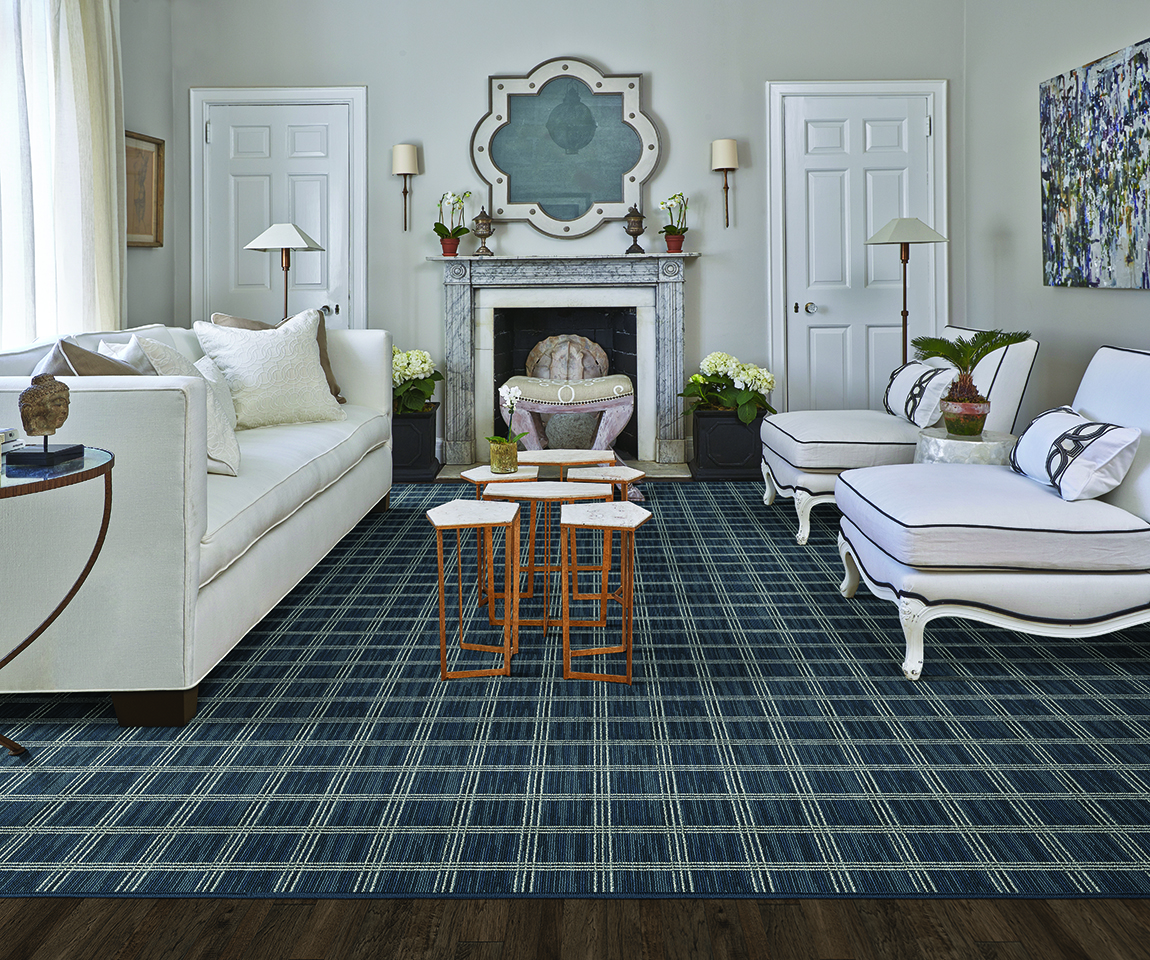 Kitchen Color Trends for 2020
All-black and all-white kitchens are both expected to be popular color schemes in 2020. However, not all homeowners want such a dramatic look. For an option that's more relaxed, yet still offers a touch of modernity and sophistication, you might prefer to decorate with one or all of the following, which are forecasted to be popular kitchen colors for 2020:
Aquatic shades of blue, such as turquoise and seafoam

Dark and medium greens, such as hunter green (which is similar to Cushing Green above)

Sunny, cheerful yellow hues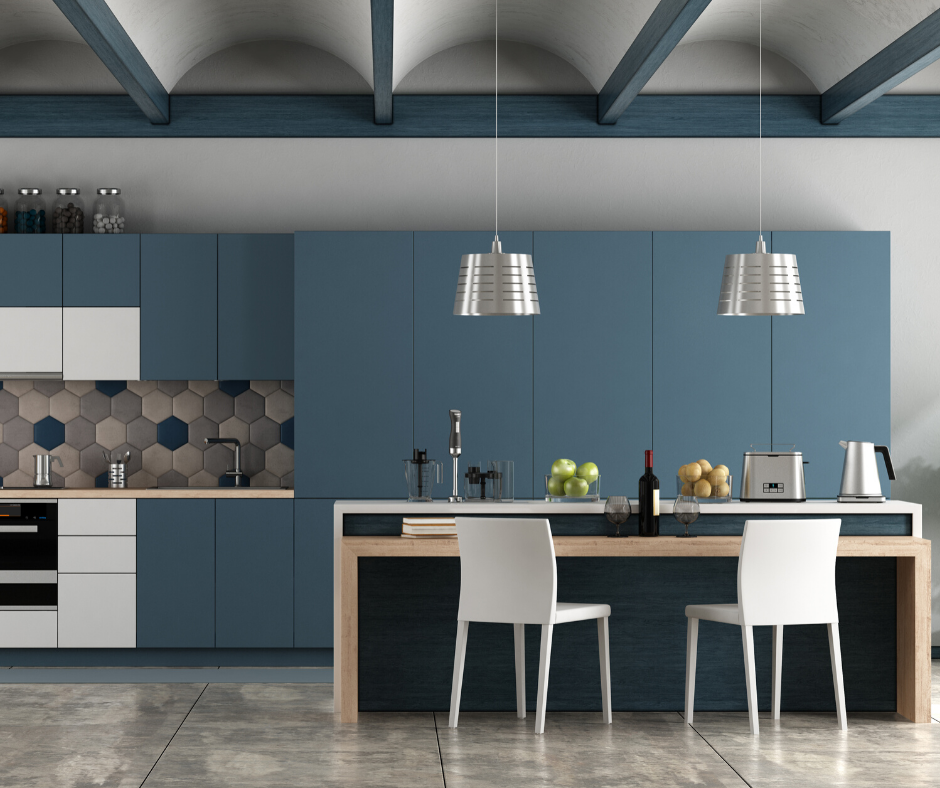 2020 Paint Colors for Bathrooms
Cool colors include blues, greens, and purples, while warm colors include yellows, oranges, and reds. Warm colors are expected to dominate the bathroom of 2020 (along with design trends like open showers, neutral tiles, and terrazzo flooring). According to interior design experts, some of the most popular bathroom colors for 2020 will include champagne, soft yellow, and pumpkin. Similar options include terracotta, clay, gold, and straw, like Benjamin Moore's Golden Straw paint color.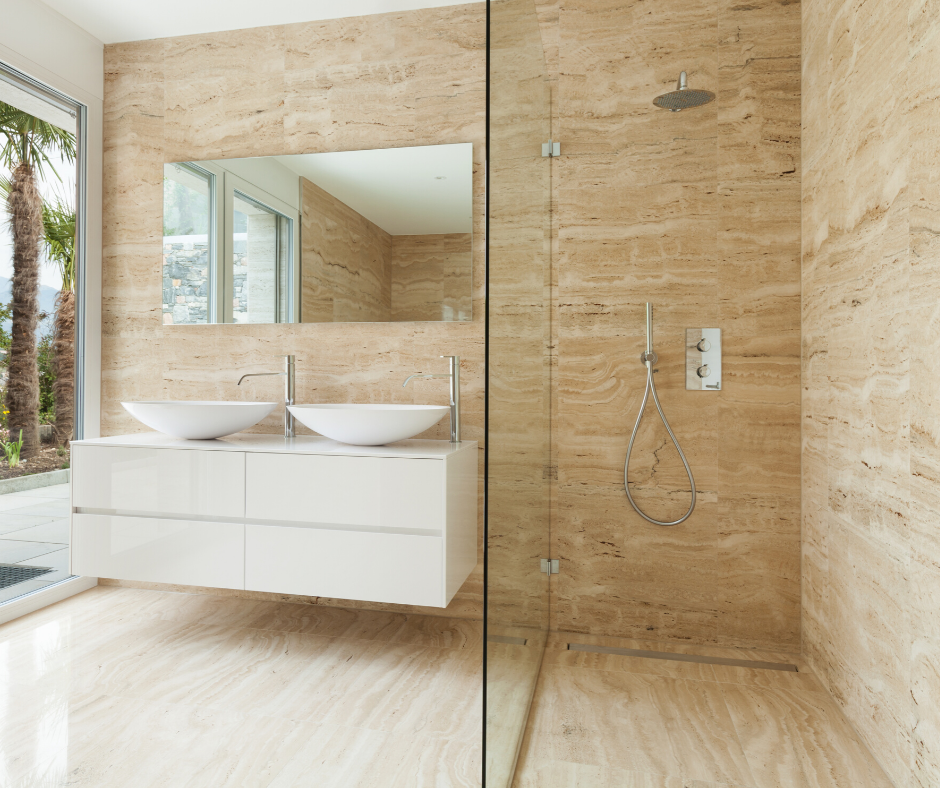 2020 Popular Paint Colors for the Bedroom
Your bedroom should be a serene and tranquil refuge, like a home within the home. (If it doesn't feel that way, check out our advice on making your bedroom into a private retreat.)
Creating the right feeling starts with the right color — something that will help you relax, unwind, and get a good night's sleep. Here are some trendy options to consider when you're choosing bedroom paint colors for 2020:
Dark, stormy blues (like Blue Danube or Buxton Blue)

Shades of grey (like Thunder or Oxford Gray)

Soft, pastel blues (like Windmill Wings)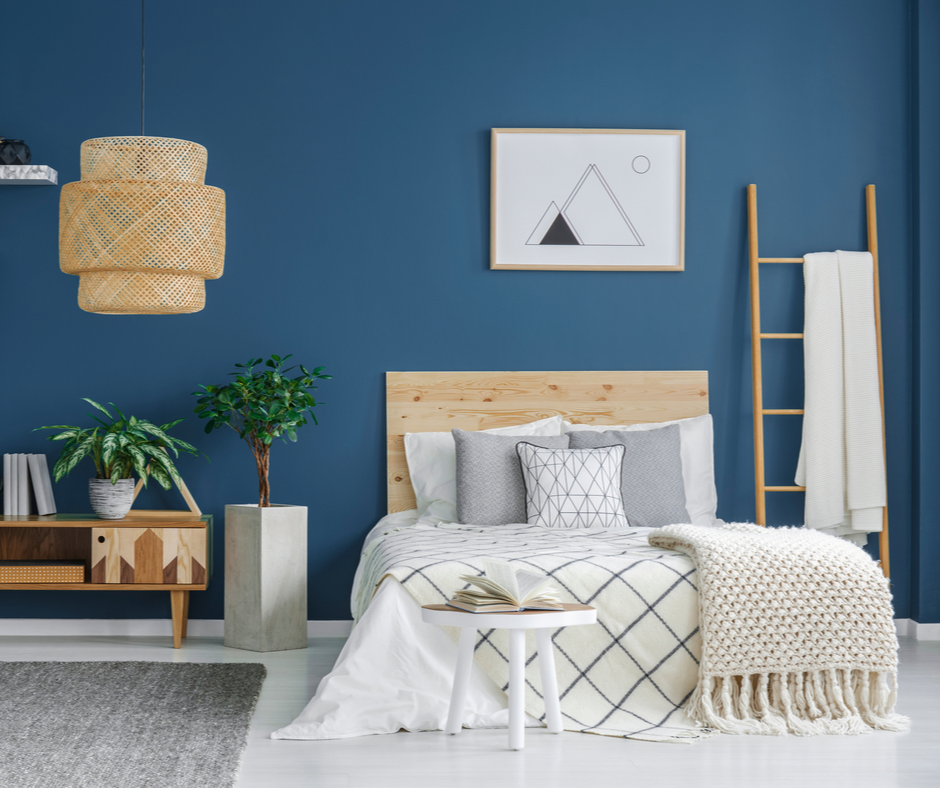 Explore 2020 Paint Color Trends for Every Room in Your Home
Whether you're updating your kitchen, your bathroom, your bedroom, or any other space in your home, get friendly design expertise and professional flooring installation from the team at Flooring America. We can help you compare thousands of products in a huge assortment of colors and patterns, making a trendy remodel effortless. Tour inspiring homes online with My Design Finder, contact us to chat with a team member, or visit one of our convenient retail locations today.
Continue Reading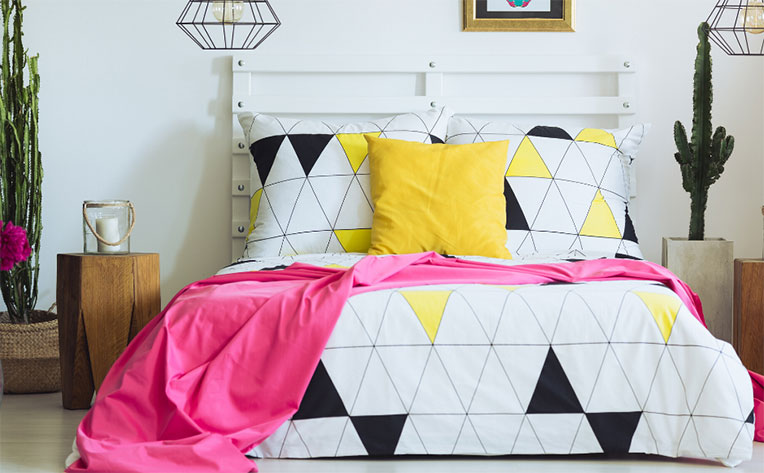 Jan 14, 2020
No, not Memphis, Tennessee. The Memphis design movement will be instantly familiar to anyone who was born during the 1980s or 1990s — and instantly memorable wherever it's used! Chances are, if you remember the opening credits of TV sitcom Saved By the Bell, you'll immediately get a striking example of Memphis design. Bright, geometric, and heavily stylized, the Memphis interior design style might not be to everyone's taste; but for fans, this iconic movement is a timeless source of inspiration.
That's great news for people who love the style since the Memphis design trend is one of the hottest looks in home interiors right now. Keep reading to learn about the characteristics of Memphis design, and get some ideas for incorporating it into your home or apartment.
Memphis Interior Design Ideas & Inspiration
What Are the Features of Memphis Design?
While art and design styles tend to overlap, there's no mistaking the Memphis look for anything else! Memphis design characteristics are unique and impossible to confuse with other interior design styles (which definitely makes shopping easy). But what, exactly, is Memphis design? Here are a few key elements to look for:
Mixed Patterns

— Memphis design is heavy on patterns, which usually mix geometric shapes (such as grids, triangles, or squares) with whimsical organic forms (like squiggles or spirals). Memphis design patterns can be incorporated into wallpaper, furniture upholstery, or even accessories like planters and coffee mugs!
Vivid Colors

— Typical "Memphis colors" are bright, even electric. Usually, a handful of colors are balanced against a white or black background, or a repeating black or white element. Look for colors like yellow, hot pink, aquamarine, acid green, purple, and cherry red.
Design Idea #1: Patterned Wallpaper
It's impossible to separate the Memphis design style from the unique, colorful patterns that give the style its foundation. But unless you're a professional artist, it's also impossible to recreate Memphis patterns by hand. The solution? Patterned wallpaper, which can be customized and ordered online.
Thanks to the recent popularity of the Memphis style, it's easier than ever before to find patterns (and palettes) you love! If possible, try to obtain a smaller test sample before committing to an entire room's worth of wallpaper.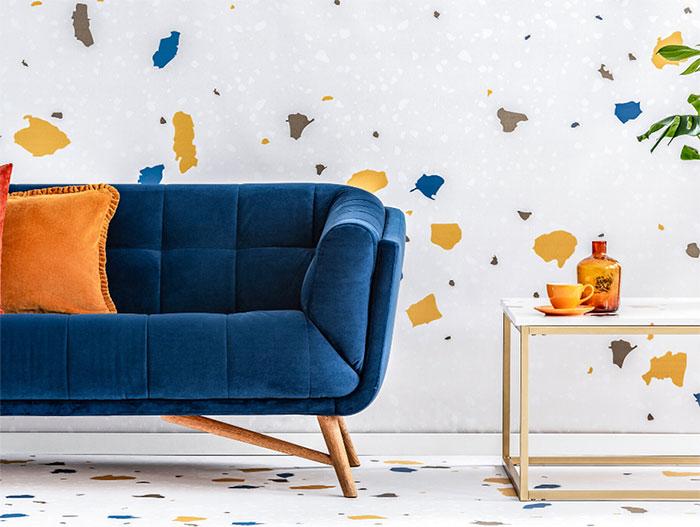 Design Idea #2: Terrazzo Flooring
You've seen terrazzo flooring before, even if you didn't know the name. Terrazzo features irregular fragments of glass, marble, and other materials, which are combined together and set with a smooth, polished glaze. Dynamic, playful, and a little bit chaotic, terrazzo tile makes the perfect aesthetic complement to any Memphis-style space. Highly customizable, terrazzo is available in a wide range of colors and pattern styles, adding even more character.
Design Idea #3: Plenty of Accessories
Your floors and walls aren't the only spaces to experiment with Memphis design looks. Don't forget to accessorize in any room of your home or apartment! With a quick online search, it's easy to find Memphis-inspired decor and accessories for any room or purpose, including planters, coffee mugs, pillows, shower curtains, drapes, dinnerware, lampshades, storage bins, and even welcome mats.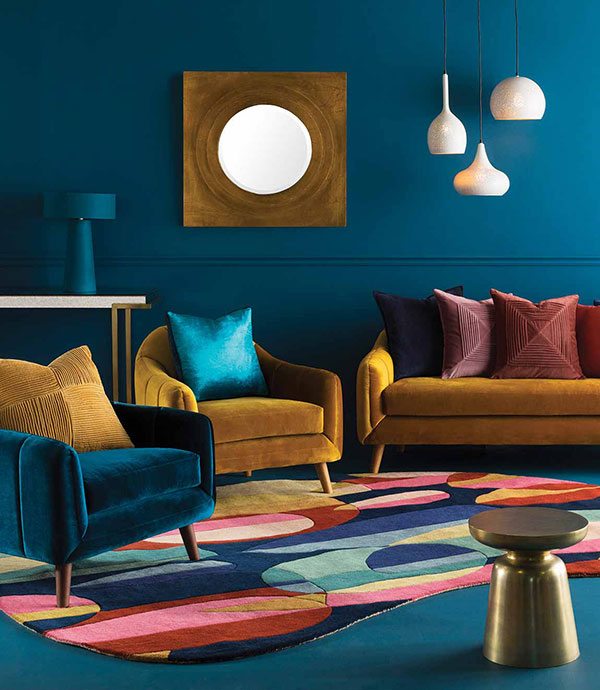 Explore Interior Styles and Trends with My Design Finder
Mad for Memphis? Discover more styles you love by exploring our design blog, checking out the beautiful custom galleries at My Design Finder, or consulting our friendly and knowledgeable team for ideas. We can help you reimagine and redesign any space to fit any style, from bathrooms and bedrooms to kitchens, basements, hallways, and more.
Contact us online to get started, or visit one of our showrooms in-person to see how our products look and feel. We carry thousands of brand-name products, including premium luxury flooring, budget-conscious flooring, and environmentally-friendly flooring. And with over 500 retail locations nationwide, you're never far from your favorite new look!
Continue Reading