Design Trends and Inspiration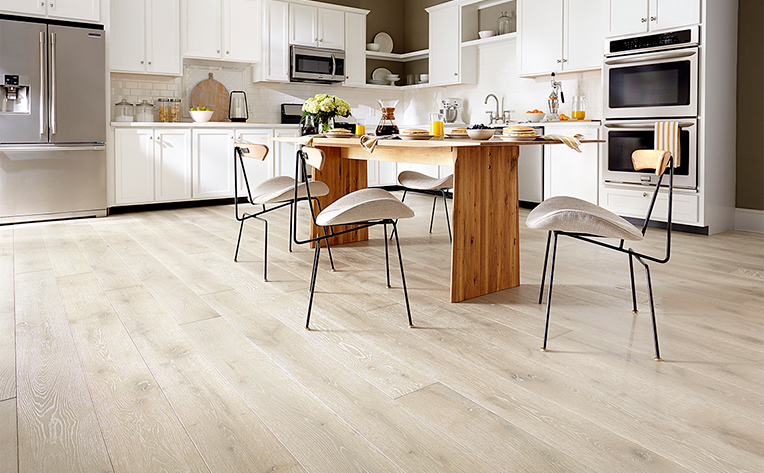 Sep 25, 2020
Hardwood's Back (Tell a Friend)
Here's to hardwood. It's been popular since pretty much forever, and we don't think it'll ever go out of style. Especially with the new trends happening right now. From the tried and true, straight-up oak floors, to some new styles that really make a room pop, get ready to fall in love with hardwood all over again.
1. High-Variation Hardwood
High-variation hardwood is perfect if you're going for a natural look because no two pieces are alike. As it says in the name, high-variation hardwood varies in color, so each strip of wood has a wide range of shades and hues. The possibilities are endless with high-variation hardwood. So, get the look you want and start enjoying high-variation hardwood.

2. Wide-Plank Hardwood
Though it's been in style for a few years now, wide-plank hardwood is a 2020 trend that we believe is here to stay. Not only do they make any room look larger, wide planks come in a variety of colors and styles to truly fit within any home. If you're in the market for a contemporary feel with a rustic, authentic look, wide-plank hardwood is definitely for you.

3. White Oak
If you're looking for a crisp look that stays looking great, white oak is an ideal hardwood style. In addition to being affordable, it's one of the hardest hardwoods out there while offering a sleek modern aesthetic to any room. The beautiful wavy grain patterns of white oak allow these floors to stand out, even underneath your most unique furniture.

4. Maple
Who doesn't love a good maple hardwood? Well, this year, it's clear that maple is doing something right, because it seems as though everyone has it. The fine grain made up of both curly patterns and uniformly straight lines gives maple a sophisticated, distinctive look. Maple is a durable option (in both hardness and style) that will keep you loving it for years to come.

5. Herringbone Pattern
Originally used for entryways, the herringbone hardwood pattern has now spread to the entire house. This traditional look utilizes a variety of wood species and can bring a pop of personality to any room. Most commonly found in light finishes, herringbone patterns are taking over living rooms, dining rooms, bedrooms, and even kitchens to elevate the style in any space.

Hardwood Floor Trends in 2020
Hardwood is back and ready to make your home truly sing. It will boost your home's value, add warmth to your space, and, depending on which style you choose, add just the right amount of personality to any room. Find your local Flooring America today and check out the latest in hardwood.
Continue Reading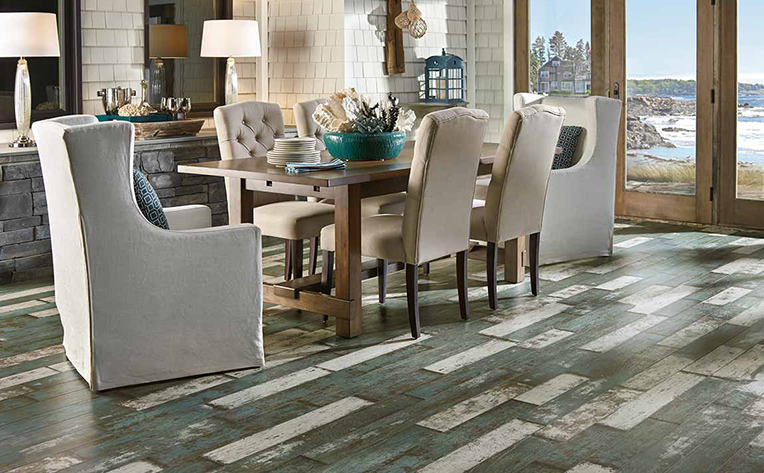 Sep 23, 2020
With everyone spending more time at home, your dining room is probably getting a lot more use. It's now part-work station, part-classroom, and part-mealtime location. And with all of this activity going on, your floors could be taking a hit. Maybe it's time to think about upgrading. Explore the variety of ways you can transform your dining room floors.
Upgrade to Hardwood
A classic for a reason, hardwood flooring sets your dining room apart. Not only does this timeless style give your space an attractive, polished look but also it's easy to clean and maintain. That means you don't have to worry about spills, stains, or that cup of coffee you tipped over during this morning's conference call.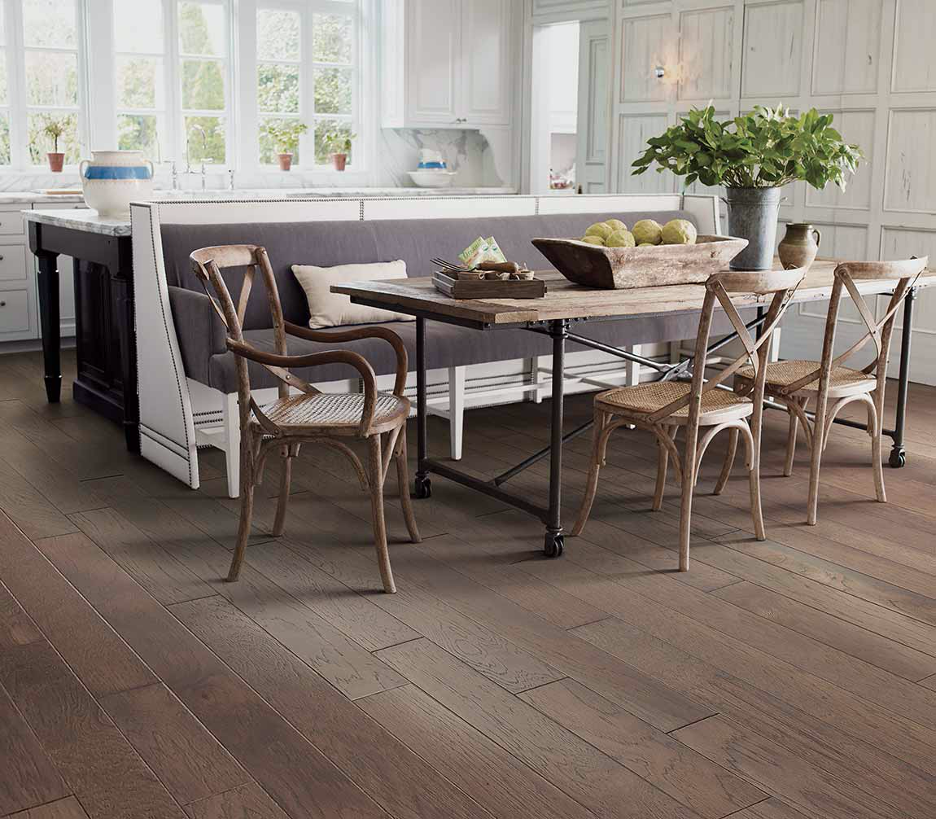 Replace with Laminate
If durability's the name of your game, laminate is a top choice. In addition to being an affordable option, it's stain-resistant, water-resistant, and low-maintenance. So you can let the kids do their worst. That's when laminate is at its best.

Turn to Tile
Tile isn't just for the kitchen and bathroom anymore. Flooring trends in 2020 are bringing it straight into the dining room, with wood-look, marble-look, and stone-look selections—all to create a distinct, beautiful appearance for your traditional dinnertime space.

Luxury Vinyl
Luxury vinyl, known for its outstanding durability, is perfect for a multi-use dining room! It also comes in both wood and tile looks with endless designs to choose from. Luxury vinyl is waterproof, dent proof, and scratch proof – chair feet and spills are no match for this flooring option.

Best Dining Room Flooring for Your Home
When it comes to livening up your dining room floors, there's no better place to do so than your local Flooring America. We have a wide selection of hardwood, tile, luxury vinyl, laminate, and more to renovate your space. Give us a call today.
Continue Reading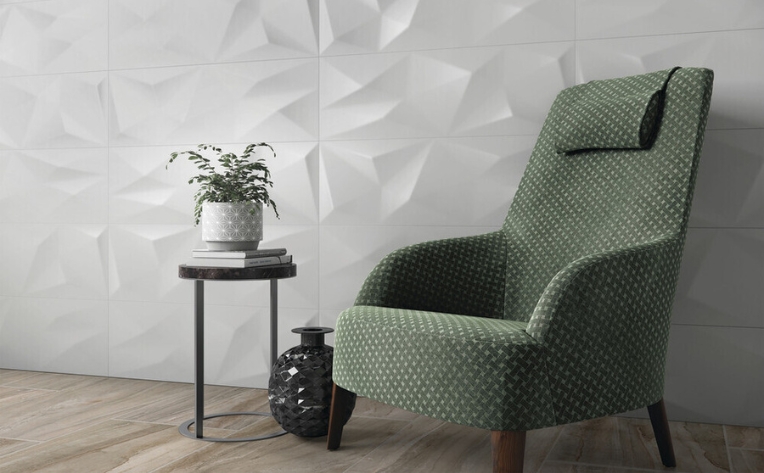 Sep 18, 2020
Does renovating your basement feel like too much of an undertaking? Have a look at carpet tiles. Traditionally used in commercial spaces, they're perfect for that basement redo. They're easy to install, affordable, rugged, and even simple to replace. Maybe that home gym you've been dreaming about is easier than you think. So, here are seven advantages as to why we recommend carpet tiles for your home.
1. A Painless Installation
Yes, installing carpet tiles is quick and easy. Most carpet installation experts are pros with carpet tile installations. Work with them to design the pattern, and they will quickly complete the job! Your room will be transformed with ease.
2. A Chance to Be Creative
Carpet tiles are the perfect way to add a pop of color. Many of the patterns of carpet tiles are interchangeable so you can achieve a unique look. It's highly durable, and it'll give that bold, fun look for you and the kids to enjoy. With carpet tiles, you choose the design, and you make it yours.

3. Maintenance Is Easy, Repairs Are Easier
You heard us right. Carpet tiles can last longer than wall-to-wall carpet. Why? Well, if one gets stained or damaged, it's only one tile you need to replace, rather than an entire floor. They're also easy to clean—just a simple vacuum as needed does the trick. Plus, carpet tiles are low pile, so they won't track as much dirt and debris like a regular carpet would.
4. Durability. And more durability.
Whether you're lifting weights, the kids are playing, or the pets are running wild, well, carpet tiles are for you. Because carpet tiles are low pile, looped, and very tight, they can withstand almost anything. Most have enhanced stain protection as well, so you can rely on these in your high-traffic areas.
5. Less Waste
Wall-to-wall carpet is great when you have a 12' or 15' room width. But, if you don't, you'll need to add carpet seams to fill your space. And with looped carpet, those seams are often visible. But with carpet tiles, you can fill the room as you please, with less waste—and no unattractive carpet seams. Carpet tiles are perfect for rooms with a complex shape, filling the space with ease.

6. You Can Breathe Easy
Carpet tiles are generally flatter and lower pile, meaning they won't trap as many dirt or dust particles. Plus, they're easy to clean, allowing for better indoor air quality.
7. Water Resistance (Thank goodness!)
With its tight weave and strong backing, carpet tiles are, in fact, resistant to water. Though they aren't completely waterproof, they're great for areas that are prone to moisture or the occasional spill—the basement, playroom, or workout room! And, as mentioned, if a bigger spill happens and damage is done, it's easy to replace just the affected tiles, rather than the entire floor.
Taking back the basement? Easy as carpet tiles.
It's time to take back the basement. And it's easier than ever. Call your local Flooring America today and talk to us about our carpet tile options. We'll help you find a style that works for you, your budget, and your space.
Continue Reading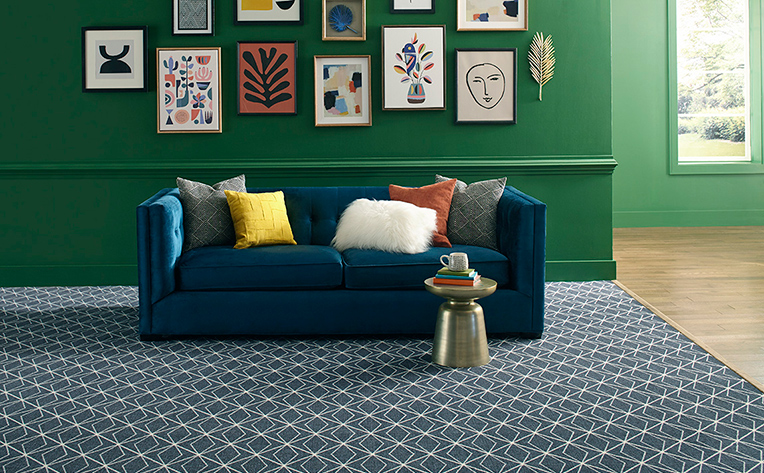 Sep 02, 2020
Maybe you've already tried a variety of ways to add eye-catching color into your home. Like statement furniture, new curtains, and perhaps even a plant or two. Yet if you feel as though you're still missing that pop of brightness, here are a few ways you can bring colorful home décor into your space.

Let Stairs Take the Stage
You might not think of your stairs as the "main character" for home décor, but they can be as beautiful as they are practical. Consider painting the banisters a brighter shade than the spindles—or vice versa—to give your space a much-needed pop of color. Or think about giving the stairs themselves a makeover, by selecting beautifully patterned carpet or fresh, new hardwood to adorn each step.

Put a Twist on Terracotta
What are plants without gorgeous homes of their own? Break out your terracotta pots and plain vases, because it's time to decorate. Using lively shades of acrylic or spray paint, give your plant holders the makeover they deserve. You can even go wild with stencils and chalk. For optimal color selection, see which hues pair best with the plants you're growing. After all, green is always in style.

Organization Is a Beautiful Thing
Need to add some pizzazz to your kitchen? Hang some hooks above your kitchen counter, and then let boldly colored coffee mugs dangle from them for a whole new way to organize. You can even mix and match mug shades to create patterns. Plus, if you have room and the space to do so, you can prop up your plates for a similar display. Adding these colorful accents to your kitchen will give it a whole new look.

Spice Up Your Backsplash
Don't forget about your kitchen walls. A new backsplash can do wonders. Find brightly colored tile to make the room pop, and then style it accordingly. Go ceramic aqua, navy checkered, or even multi-colored. No matter the selection, your backsplash will draw the eye and make your kitchen feel brand-new.

Frame Things Just Right
Gallery walls are all the rage right now. They're a great way to display your best memories and liven up empty space in your home. Not to mention, they're pretty easy to assemble. Start by printing your chosen photos and gathering a variety of colorful frames. Once you've put those together, use a measuring tape, adhesive, and a keen eye to place the frames to your liking. The result? Your new favorite wall.
So when you're ready to mix things up in the color department, give these ideas a try. Soon, the colors in your home will match the liveliness of the people in it.
Looking for even more ways to renovate? Simply stop by your local Flooring America. We have a wide selection of hardwood, luxury vinyl, laminate, carpet, and more to help make your home as beautiful as it can be.
Continue Reading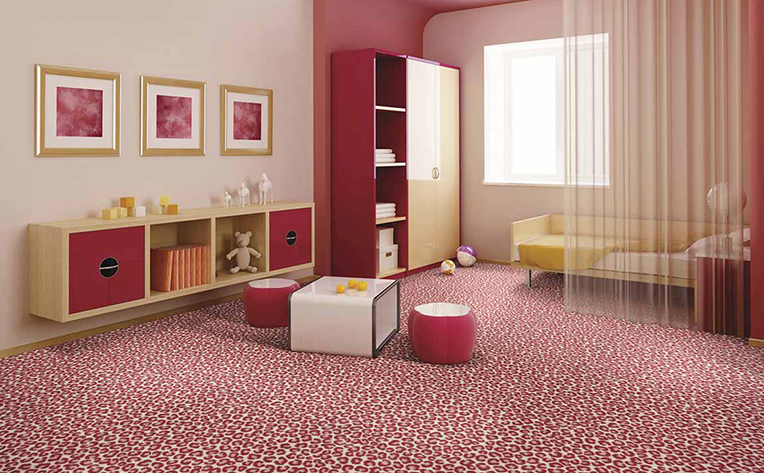 Aug 26, 2020
When it comes to style, the 1980s tend to get a bad rap. It was, after all, the time of leg warmers and mullets. But the truth is, many of the decade's fashion statements have come back around—especially in interior design. From large windows to patterned carpet, you can still look to the past for decorative advice. Here are a few ways to do just that.
Clear Furniture
Translucent furniture was incredibly popular during the '80s. And while we might have taken a turn since then from Lucite to glass, see-through pieces still very much have a place in your home. Consider adding light touches to open up a space, such as a glass coffee table, an open-paneled bookshelf, or even a reflective countertop in your bathroom.

Neon Colors
While muted tones are in right now, a pop of color here and there can really make a room sing. Try channeling your '80s nostalgia by infusing bright shades into your projects. Place a set of vibrant pink throw pillows on your beige couch, contrast your wooden kitchen island with lively orange stools, or accessorize your living room with that vivid green armchair. Used sparingly, neon colors will act as delightful additions to your humble abode.

Glass Walls and Windows
Though the sweeping glass-brick walls of the '80s have been left behind in favor of more modern options, similar techniques can still create bright, natural light in your home. Think about giving your space a larger-than-life glimpse into the outside world, with floor-to-ceiling windows or glass doors. You'll combine the feeling of a glass-brick wall with a more contemporary look.

Patterned Carpet
Yes, the style has undoubtedly changed over time, but patterned carpet certainly hasn't disappeared. Trendy in the '80s, this type of flooring has transformed into a variety of colors, designs, and cuts—and people continue to use it in their living rooms and bedrooms today. But if you want to spice up your space without rolling out all-new carpet, you can use patterned rugs to contrast your solid-colored floors.

Tropical Prints
Leaves, foliage, and palm trees were everywhere during the '80s. You could find them on clothing, bedspreads, and curtains. They even adorned some of your favorite characters from television. These days, tropical prints still have their place, but they feature much better on your walls: in the forms of small accent decals (great for gallery walls), framed prints, or canvases.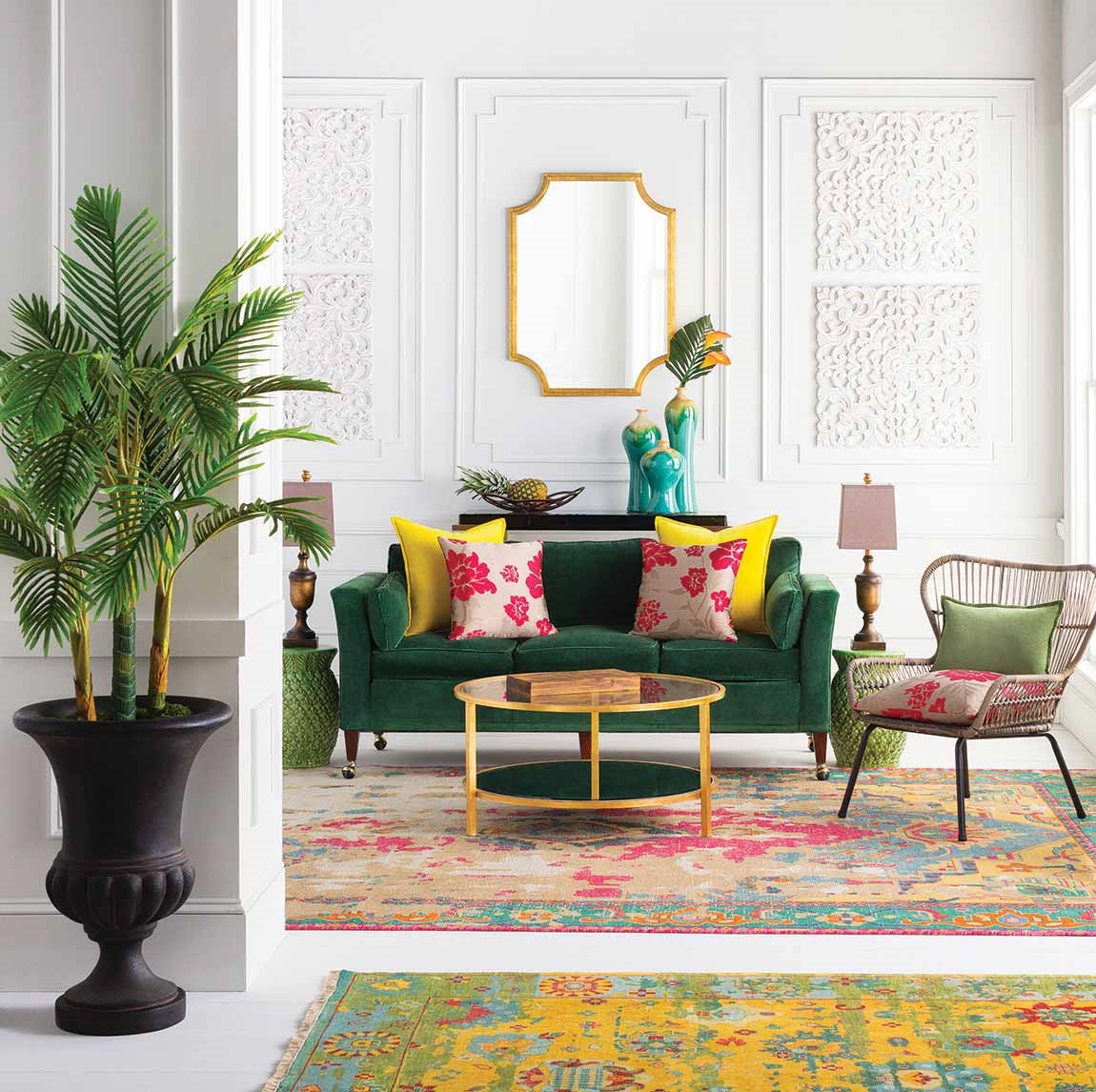 So if you're looking for something "rad" without being radical, think about these '80s-inspired design trends. You never know when inspiration from the past can strike.
Looking for even more ways to make the old new? Stop by your local Flooring America to discover a wide selection of hardwood, luxury vinyl, laminate, carpet, and more.
Continue Reading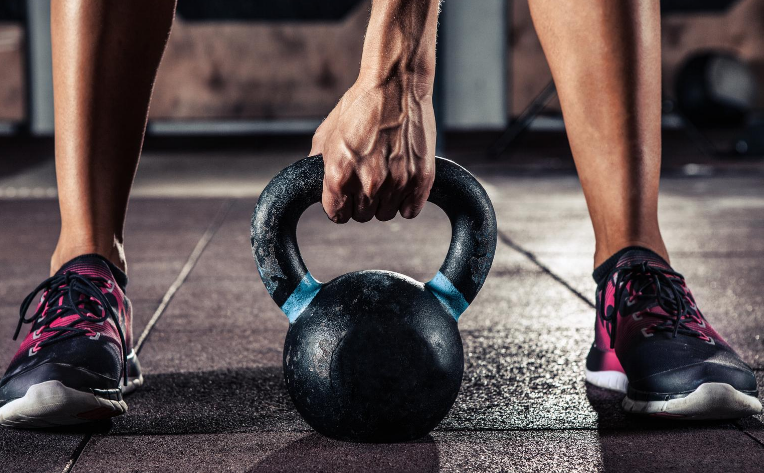 Aug 19, 2020
Getting tired of the same old places to spend time at home? Why not take advantage of that extra space your car has called home for so many years? Yep, we're talking the garage. Homeowners everywhere are turning their garages into multifunctional spaces—perfect for a home gym, a workspace, or even a man cave. And the basis of a great renovated garage starts with the floors.
Now, Your Car Isn't the Only Thing Enjoying Your Garage
Rubber floors are recommended for garages, whether you're planning on parking your car in it or not. Check out the best rubber flooring options, so you can make your garage a place you'll actually enjoy visiting.
If you're planning on sharing the space with your car, try a vulcanized rubber floor. These floors are not adhered with glue, and they won't break down from oils or solvents that may drip from your car. And if you're hoping to use this space as a workshop, it's the perfect floor to withstand any messes that may occur. These are also perfect for home gyms and can withstand the force of a dropped weight or two.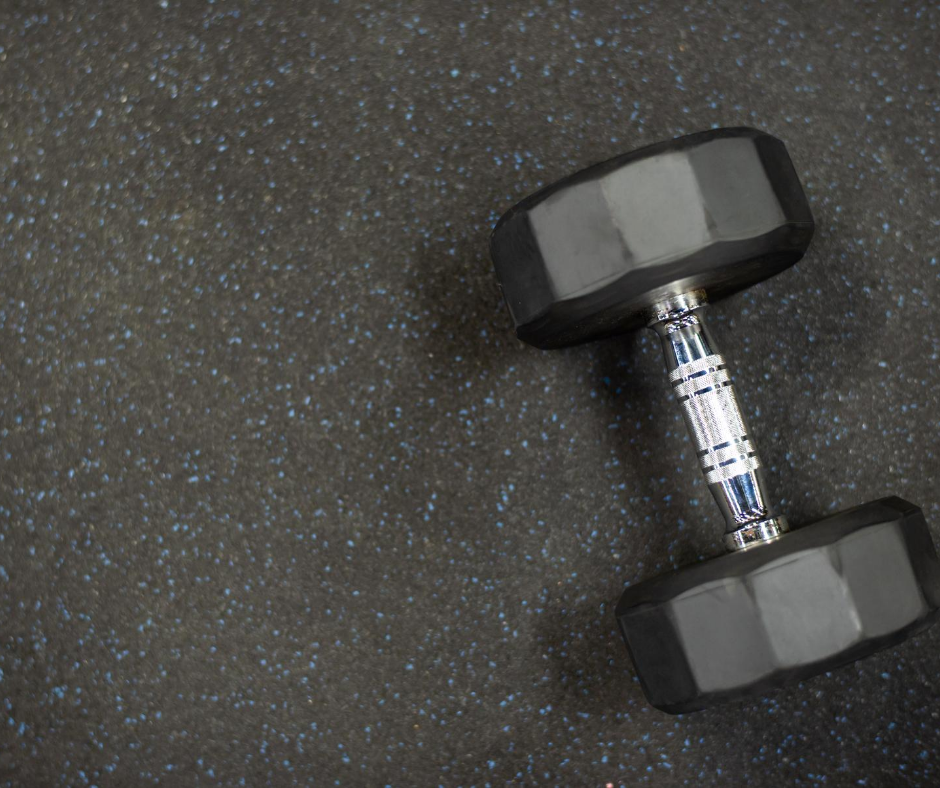 Vulcanized rubber can tend to be a bit pricier than other rubber floors, so if you're just looking to transform the space into a home gym (or a simple hangout spot), an inexpensive rubber roll will work perfectly fine. It's durable, slip-resistant, and easy to clean.
Another option for those looking for a quick to install, high-durability product, is interlocking modular vinyl tile. It comes in a variety of designs if you would like to add a stylish flair to your garage space. It's also sound absorbant and waterproof! Now your garage can be a quiet oasis and not just a utilitarian space.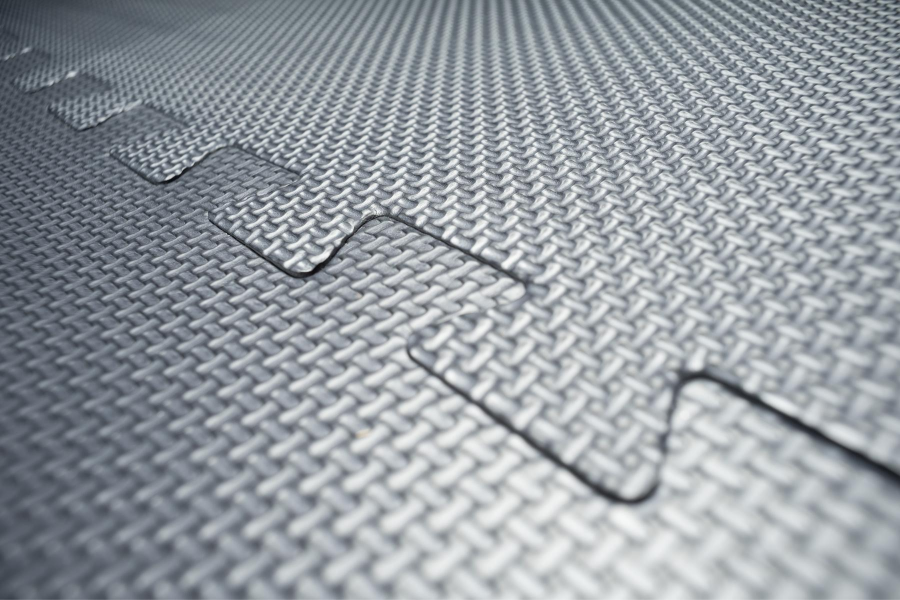 Overall, rubber floors are a great option if you're looking to take advantage of all that extra space. It's easy to maintain, even easier to install, and, as promised, multipurpose. Whether it's used to exercise, set up a workshop, or simply hang out, your garage has a lot to offer. So, start taking advantage of that extra space and get more out of your quarantine time at home.
Call your local Flooring America today and talk to us about your space. We'll help you find a floor that works for you.
Continue Reading