Laminate Flooring in Eugene, OR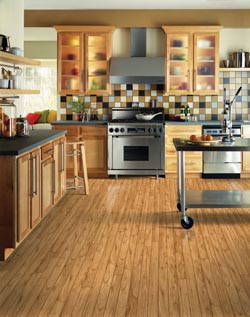 Count on us for laminate flooring in Eugene, Oregon that offers the durability and multidimensional textures you want to elevate the elegance of your home or business. Our showroom includes brands from a variety of leading manufacturers, and our flooring specialists can educate you about our many options and low prices on flooring solutions for any area or room.
Let us help you make your flooring visions come to life. Whether you prefer a modern or classic look, one of our highly trained associates is ready to help you select laminate flooring to suit your taste and needs. Tell us about your lifestyle and design preferences, and we give you a wide variety of laminate wood flooring or laminate tile flooring options to choose from.
Versatile & Stylish Laminate Wood Flooring
Add beauty and warmth to any room in your house with laminate wood flooring, which mimics high-end hardwood floors without the cost and maintenance. The design and quality of laminates last for many years. Better yet, it never needs updating, no matter what your choice of style. With an abundance of character and an elegant look for the most basic room in the house, you are destined to find the best laminate flooring in looks, performance, and price.
Add a new durable surface to your home with laminate tile flooring. This affordable flooring is available in numerous styles, colors, patterns, and sizes. You are sure to find one that perfectly matches your sense of style. From sleek and modern to rich and classic, we offer a fast and affordable way to improve the interior atmosphere of your home. Look to us for an impressive selection of laminates in a broad spectrum of hues and designs at an affordable rate.
When investing in laminate tile flooring, we understand you want to be completely confident in your decision. With our extensive selection of tiles, you can count on us to make sure that your every need is satisfied.
Professional Laminate Flooring Installation
Our commitment to helping you doesn't end after you've selected your flooring. Instead of spending time and resources looking for a qualified installer, take advantage of our professional laminate flooring installation services. Our flooring installation technicians can deliver and install any selection of flooring to add beauty and value to any room in your home.
Count on us for experienced and detailed flooring contractors with the skills and experience to properly install every piece of laminate tile in your home. With our help, you never have to worry about your flooring project. Be sure to ask about our Ultimate Guarantee, which ensures our products and services for many years to come.
Laminate floors are easy to install and extremely easy to clean. They are easily installed and relatively inexpensive. Some of the other benefits of laminates include:
Simulate High-End Hardwood & Natural Stone
Stain & Spill Resistant
Easy Click Together Installation
Resistant to Mold & Bacteria
Laminate floors are engineered in four layers to provide you with dependability and aesthetics that enhance the value of your home. Each layer plays a pivotal role in protecting the integrity of your floors. Laminate flooring offers especially low maintenance and high durability, with the lasting power to withstand heavy foot traffic and daily use. It's perfect for families with children, pets, and extremely active households.

Contact us today at <PHONE> to learn more about our wide range of laminate flooring options. We proudly serve the communities of Eugene, Springfield, Junction City, Harrisburg, and Corvallis, Oregon.