Laminate Flooring in Eugene, OR

Count on Imperial Flooring America, formerly known as Imperial Floors, for laminate flooring that offers the durability and realistic textures you want to elevate the appeal of your home!

Whatever your project entails, let us help you make your flooring visions come to life. Whether you prefer a modern or classic look, one of our highly trained associates is ready to help you select laminate flooring to suit your unique taste and needs. Tell us about your lifestyle and design preferences, and we will give you a wide variety of wood-look laminate or tile-look laminate flooring options to choose from. Additionally, we'll finish the job with a flawless laminate flooring installation by our team of in-house experts. Visit our Eugene, Oregon, showroom today to start your laminate flooring remodel!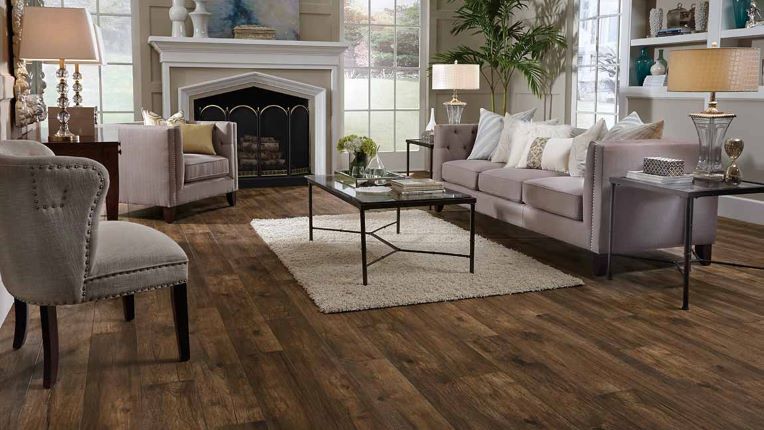 What Is Laminate Flooring?
Laminate sports a solid appearance and contains four distinct layers. It is manufactured with a base that protects against moisture and a core that can withstand heavy foot traffic. The next layer is decorative, allowing for a variety of patterns that can realistically mimic wood or stone. To top it all off is a wear layer typically compounded with melanin resin and aluminum oxide; elements that protect your floor from stains and other markings. This produces a beautiful flooring option that is available in a variety of colors or patterns, with a resemblance to wood or stone surfaces.

Types of Laminate Flooring Explained
When considering what type of laminate flooring may be the most suitable for you, it is important to understand the different types that we have available in our showroom. At Imperial Flooring America, we provide two types of laminate flooring:
Wood Look Laminate Flooring- This gorgeous laminate flooring type gives you an elegant wood look with the exceptional functional benefits of laminate. You can rest easy knowing daily household mishaps and excess moisture are no match for your stylish wood-look flooring. Whether you desire a lovely mahogany look for your living room or a rustic oak look in your bedrooms, we bring enhanced wood visuals with registered embossing with the prices and performance you deserve.
Tile Look Laminate Flooring - If you dream of a classy porcelain bathroom or a beautiful ceramic pattern in your kitchen, opt for this durable tile alternative. Not only is laminate much more affordable than tile, but it is also much warmer underfoot on rainy Eugene, OR, mornings.
How is Laminate Flooring Different Than Luxury Vinyl Flooring?
While laminate and luxury vinyl floors offer similar functionality and beautiful looks, there are a few distinct differences to note:
Price: Laminate floors tend to be less expensive than their LVP or LVT alternatives due to the materials used. Laminate has a wood by-product core while vinyl is typically composed entirely of plastic.
Installation: Both have a similar installation process, typically using a click-and-lock or tongue-and-groove system for a tight seal.
Function: Laminate floors are water-resistant while luxury vinyl floors can be 100% waterproof. Both are wonderful flooring solutions for heavy-wear households.
Visit us today to find out if laminate or vinyl flooring is best for your lifestyle!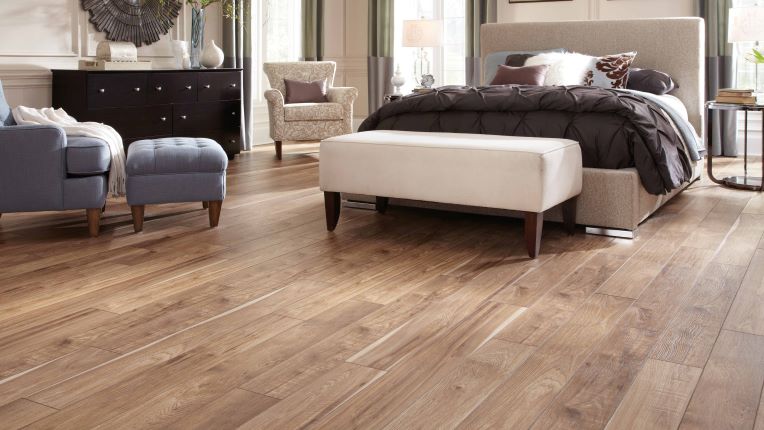 Why Choose Laminate Flooring for Your Oregon Home?
We know that you are faced with many different options when the time comes to renovate the floors of your home. There are several benefits to selecting laminate aside from its strength and fantastic cost. Each of these desired flooring qualities is created into a final product that mimics the fashionable look of hardwood, ceramic, or marble flooring.
Imperial Flooring America proudly offers stylish brand choices from leading laminate brands including Floorcraft, Pergo Elements, Quick Step, and more. Discover the many benefits of choosing laminate floors:
Once installed, your new laminate flooring is simple to clean with a quick vacuum or sweep - no polishing or waxing necessary!
While traditional hardwood or tile floors are beautiful, you can offer the same beauty with even stronger durability when you choose laminate.
Resistant to fade from UV light, scratches, and pressure, laminate provides one of the longest-lasting flooring solutions on the market.
Allergy sufferers will rejoice as laminate can aid in the overall air quality of your home. With a natural resistance to the growth of mold and bacteria, it's even possible to treat it with allergen-resistant coatings for enhanced protection.
Laminate flooring can last for 15 years or longer, requiring minimal maintenance for cleaning and upkeep.
As one of the easiest types of flooring to install, laminate can also be removed without major hassle for future redesign projects. Each plank is placed using a click system and can be placed over any existing subfloor.
Resistant to stains, cracks, dents, and fading, laminate can withstand heavy foot traffic for years.
Expert Laminate Flooring Installation
Our commitment to helping you doesn't end after you've selected your flooring. Instead of spending time and resources looking for a qualified installer, take advantage of our professional laminate flooring installation services. Our local Eugene laminate flooring installers can deliver and install any selection of laminate flooring to add beauty and value to any room in your home.
Count on us for experienced and detailed flooring installations with the skills and experience to properly install every piece of laminate in your home. With our help, you never have to worry about your flooring project. Our Adore Your Floor Guarantee ensures a no-cost repair, should something go wrong following installation. Ready to take the first steps toward your laminate flooring remodel?

Contact us today to learn more about our selections of laminate flooring! We proudly serve the communities of Eugene, Springfield, Junction City, Harrisburg, and Corvallis, OR, as well as the surrounding communities.