Strong & Stylish Laminate Flooring
Laminate Flooring in Eugene, OR
Count on Imperial Flooring America, formerly known as Imperial Floors, for laminate flooring that offers the durability and realistic textures you want to elevate the elegance of your home. Our showroom includes brands from a variety of leading manufacturers, and our flooring specialists can educate you about our many options and low prices on flooring solutions for any area or room.
Let us help you make your flooring visions come to life. Whether you prefer a modern or classic look, one of our highly trained associates is ready to help you select laminate flooring to suit your unique taste and needs. Tell us about your lifestyle and design preferences, and we give you a wide variety of laminate wood flooring or laminate tile flooring options to choose from.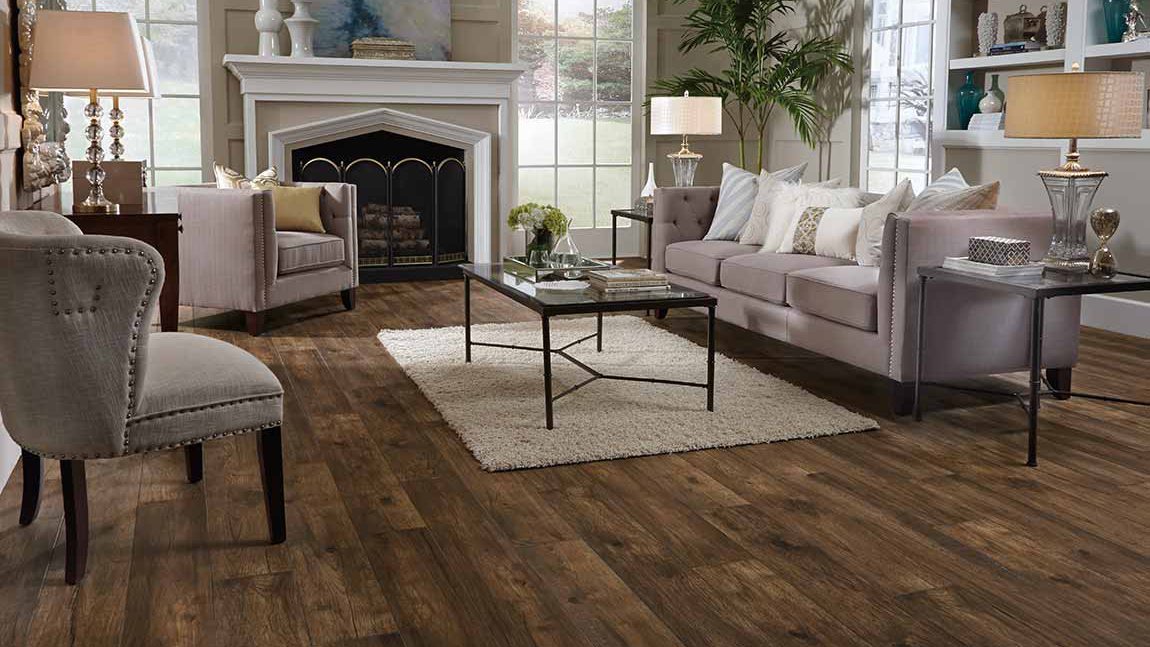 The Benefits of Laminate Flooring
We know that you are faced with many different options when the time comes to renovate the floors of your home. There are several benefits to selecting laminate aside from its strength and fantastic cost. Laminate flooring can last for 15 years or longer, requiring minimal maintenance for cleaning and upkeep. Resistant to stains, cracks, dents, and fading, laminate can withstand heavy foot traffic for years. Each of these desired flooring qualities is created into a final product that mimics the fashionable look of hardwood, ceramic, or marble flooring.

Laminate sports a solid appearance and contains four distinct layers. It is manufactured with a base that protects against moisture and a core that can withstand heavy foot traffic. The wear is typically compounded with melanin resin and aluminum oxide; elements that protect your floor from stains and other markings. The top layer is decorative, allowing for a variety of patterns that can realistically mimic wood or stone.

Laminate flooring has been one of the most popular flooring products on the market in recent years for its ease of maintenance. Regular cleaning of your laminate flooring requires just a sweep or vacuum, along with a weekly mopping. We always recommend checking your warranty before purchasing or using any cleaning chemicals which may be harsh to the wear layer. We are more than happy to provide cleaning product recommendations that are under your new laminate flooring's warranty.
Types of Laminate Flooring Explained
When considering what type of laminate flooring may be the most suitable for you, it is important to understand the different types that we have available in our showroom. Laminate flooring is manufactured using either high-pressure or direct-pressure methods. Under the direct-pressure method, all four individual layers are fused together at once. This method produces the most affordable and common types of laminate flooring.

The high-pressure method is similar, though the layers are fused one at a time and with higher amounts of heat and weighted pressure to produce the most durable forms of laminate flooring. This method is the ideal option for commercial spaces. Either method will produce a beautiful flooring option that is available in a variety of colors or patterns, with a resemblance to wood or stone surfaces. Imperial Flooring America proudly offers stylish brand choices from Floorcraft Maysville and Floorcraft Performance Flooring. We also offer waterproof laminate flooring options exclusively from Floorcraft Maysville H2O for those seeking extra protection from spills and moisture.
Why Choose Laminate?
Laminate flooring is a popular choice due to its ease of installation and maintenance. As one of the easiest types of flooring to install, laminate can also be removed without major hassle for future redesign projects. Each plank is placed using a click system and can be placed over any existing subfloor except for carpet.

Once installed, your new laminate flooring is simple to clean with a quick vacuum or sweep - no polishing or waxing necessary! While traditional hardwood floors are beautiful, you can offer the same beauty with even stronger durability when you choose laminate. Resistant to fade from UV light, scratches, and pressure, laminate provides one of the longest-lasting solutions on the market. Allergy sufferers will rejoice as laminate can aid in the overall air quality of your home. With a natural resistance to the growth of mold and bacteria, it's even possible to treat it with allergen-resistant coatings for enhanced protection.
Expert Laminate Flooring Installation
Our commitment to helping you doesn't end after you've selected your flooring. Instead of spending time and resources looking for a qualified installer, take advantage of our professional laminate flooring installation services. Our flooring installation technicians can deliver and install any selection of flooring to add beauty and value to any room in your home.

Count on us for experienced and detailed flooring contractors with the skills and experience to properly install every piece of laminate in your home. With our help, you never have to worry about your flooring project. Our Ultimate Confidence Guarantee ensures a no-cost repair, should something go wrong following installation.
Contact us to learn more about our selection of laminate flooring. We proudly serve the communities of Eugene, Springfield, Junction City, Harrisburg, and Corvallis, OR, as well as the surrounding communities.