The Best Luxury Vinyl Flooring Selection in Eugene
Take your home from drab to fab when you purchase vinyl flooring from Imperial Flooring America, formerly known as Imperial Floors. No matter what look you are looking for, we help you find a complete collection at a price that fits any budget. When you are ready to install or replace your current floors, we show you why replacing outdated materials with new and improved vinyl tile flooring doesn't have to be a challenge. We make the replacement process easy by providing impressive selections and professional services. Our latest vinyl products perfectly mimic high-end flooring fashions at cost-effective rates. Choose from our stunning collections of vinyl tile and plank flooring options. Visit our showroom in Eugene, OR, today to get started!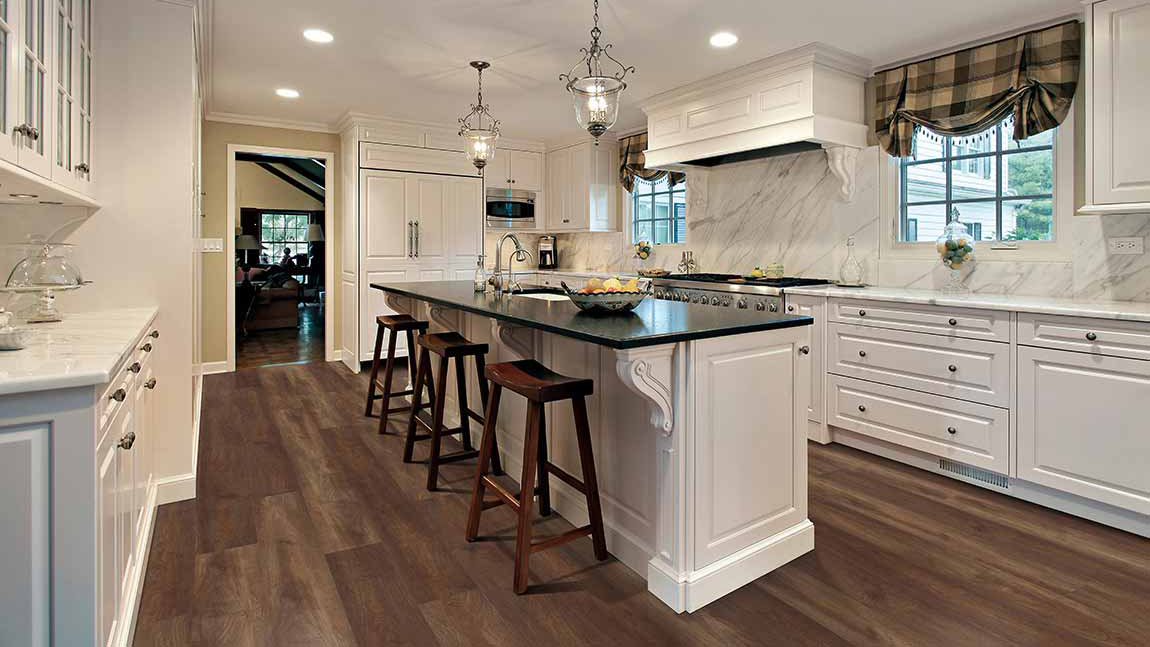 Luxury Vinyl Tile vs. Luxury Vinyl Plank
We have vinyl in many sizes, shapes, and appearances, so whether you are looking for luxury vinyl tile (LVT) or luxury vinyl plank (LVP) - we have the flooring for you! These high-performance materials are exceptionally resilient due to their layered compositions. Either vinyl flooring type is made from several wear layers beneath a resistant vinyl surface designed to stand up strong to even the heaviest foot traffic. Learn more about our luxury vinyl selection:
Luxury vinyl tile

offers endless options for residential and commercial property owners. Replicate the look of ceramic or porcelain with this comfortable alternative, which is perfect for bathrooms, kitchens, and other high-moisture areas.

Luxury vinyl plank

is one of our most popular flooring products and is the ideal compromise for those who like hardwood floors but want more comfort and longevity. LVP is made using advanced photographic technology that results in beautiful decorative layers with authentic-looking grain and whirl patterns that replicate your favorite types of hardwood.
Traditional Sheet Vinyl Flooring
Are you looking for something durable, practical, and affordable? Today, one of the leading options for homeowners is vinyl sheet flooring. This affordable material is easy to install, stands up to moisture, and is guaranteed to look beautiful for years. No matter your preferred style, our knowledgeable sales team is happy to help you make the selection process easy. We feature a complete vinyl sheet flooring collection in various colors, patterns, and styles.
The Benefits of Luxury Vinyl
We know that the quality of your flooring matters. That's why we only carry luxury vinyl flooring from the best brands in the industry, including Coretec, Pergo, and more. By only carrying top-quality luxury vinyl, we can provide a flooring solution with many benefits. Learn about luxury vinyl's many benefits:
Luxury vinyl is known for being made from

waterproof

materials that can

withstand moisture and standing water

, making it ideal for kitchens, basements, and bathrooms.

Luxury vinyl is a

tough surface

that can withstand even the heaviest foot traffic and roughest wear and tear. It typically comes with a protective layer

resistant to scratching, scuffing, chipping, and cracking

.

It's

easy to keep clean,

and maintenance won't take much of your time

Vinyl is

built to last

and can withstand heavy foot traffic, high amounts of pressure, and can be used throughout your home.

Easily Maintain Your New Luxury Vinyl Floors
Our luxury vinyl flooring is strong enough to withstand a lot of wear and tear, making it the perfect flooring choice for active families with pets and kids. Luxury vinyl is waterproof flooring that can resist high-moisture rooms like bathrooms, kitchens, and laundry rooms. Spills and liquids do not match luxury vinyl, which makes for no-stress cleaning. Before using any cleaning products containing harsh chemicals that could damage your new luxury vinyl floors, we recommend double-checking your new floor's warranty. Regular cleaning can be performed by:
Regular sweeping or vacuuming to remove dust and debris from the floor.

Weekly wet mopping for a deeper clean.
Professional Vinyl Flooring Installation
Once you have found the perfect flooring materials for your space, complete the process by turning to our professionals for your installation. For your convenience, we offer a full luxury vinyl flooring installation in any room of your home or business. From kitchens to bathrooms, our experienced and trained technicians complete jobs in spaces of any size. We work hard and can accommodate your busy schedule to ensure a limited interruption to your daily routine.
While many homeowners prefer to do projects independently, a vinyl flooring installation is one job best left to the professionals. Our trained technicians focus on the details so that you can enjoy your new flooring. To guarantee your new kitchen luxury vinyl tile or bathroom luxury vinyl tile continues to look great far into the future, entrust the installation process to our team. Every luxury vinyl flooring installation that we perform is handled by trained technicians. Our work is done right the first time and is backed by our Ultimate Confidence Guarantee.


Contact us to discover the benefits of installing vinyl flooring. We proudly serve residents of Springfield, Junction City, Harrisburg, Albany, and Eugene, Oregon.