Luxury Vinyl Flooring in Eugene, OR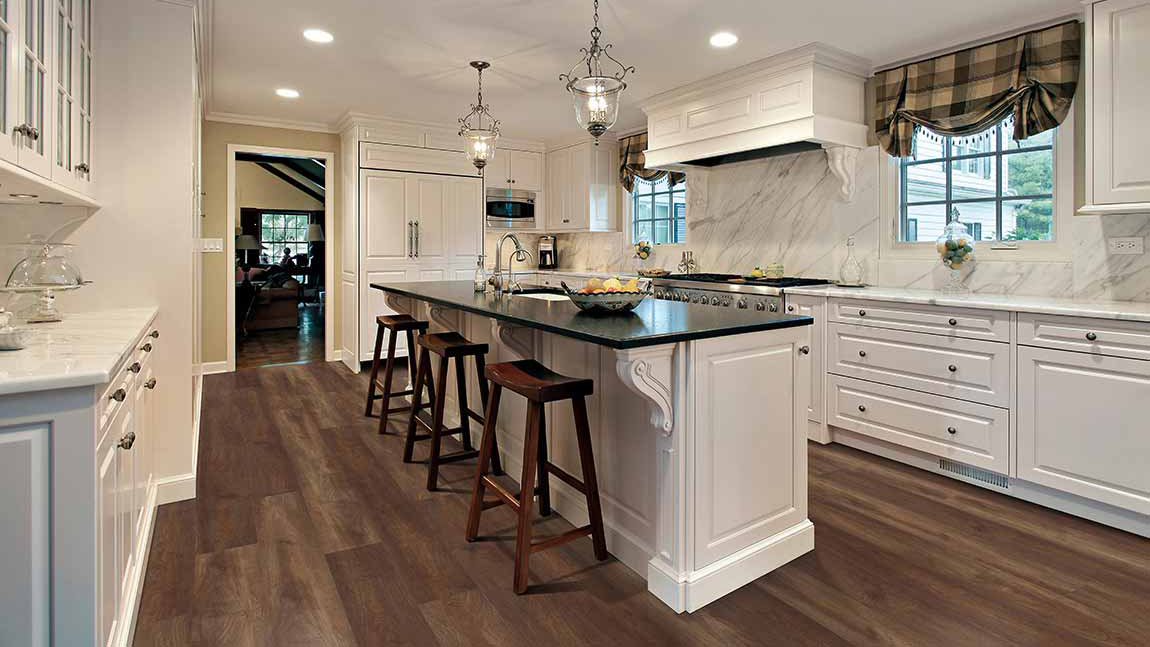 Transform your Eugene, OR, home with the elegance of luxury vinyl flooring from Imperial Flooring America. Discover a wide range of styles that suit every taste and budget. Say goodbye to the hassle of outdated flooring materials with our effortless replacement solutions. We offer a curated selection of premium vinyl tile flooring, mirroring luxurious designs, all at budget-friendly prices. Explore our exquisite vinyl tile and plank flooring collections at our Eugene showroom. Elevate your living space today!
Explore Our Luxury Vinyl Flooring Options
Explore a diverse range of luxury vinyl options at our store. Whether you prefer luxury vinyl tile (LVT) or luxury vinyl plank (LVP), we've got the perfect flooring for your needs. These high-performance materials feature robust, multi-layered constructions, ensuring exceptional durability even under heavy foot traffic.
Discover more about our luxury vinyl offerings:
Luxury Vinyl Tile: LVT offers versatile choices for both residential and commercial spaces. It effortlessly mimics the look of ceramic or porcelain, making it an excellent choice for areas prone to moisture, such as bathrooms and kitchens.
Luxury Vinyl Plank: LVP stands out as one of our most sought-after flooring solutions, bridging the gap between the charm of hardwood and the comfort and longevity you desire. Utilizing advanced photographic technology, LVP boasts decorative layers with authentic grain and swirl patterns, closely replicating your favorite hardwood styles.
Sheet Vinyl: For a seamless and elegant flooring solution, consider our sheet vinyl options. With a wide range of styles and designs, sheet vinyl provides a versatile and practical choice for various spaces, offering durability and visual appeal.
Why Choose Luxury Vinyl Flooring for Your Eugene Home
Luxury vinyl flooring is a smart choice for Eugene homeowners for several compelling reasons:
Exceptional Durability: Eugene's varied climate conditions demand flooring that can withstand moisture, temperature fluctuations, and heavy foot traffic. Luxury vinyl flooring, whether in tile or plank form, is renowned for its robust, multi-layered construction that makes it exceptionally resilient and long-lasting.
Authentic Aesthetics: Homeowners in Eugene appreciate the versatility of luxury vinyl flooring in design. LVT and LVP accurately replicate the natural beauty of hardwood, stone, and ceramic materials. This allows you to achieve the desired aesthetic without the maintenance or cost associated with traditional flooring options.
Comfort Underfoot: Luxury vinyl flooring provides a comfortable surface to walk on, making it perfect for families and those who value a softer, warmer feel underfoot. The cushioning provided by luxury vinyl reduces foot fatigue and adds a touch of coziness to any room.
Easy Maintenance: Keeping your floors looking their best is a breeze with luxury vinyl. Regular cleaning and minimal upkeep are required to maintain the flooring's pristine appearance. This makes it ideal for busy Eugene homeowners who want beauty without the hassle.
Water-Resistant Properties: Eugene's damp climate can be tough on flooring, but luxury vinyl is built to resist moisture. It's an excellent choice for bathrooms, kitchens, and other high-moisture areas.
Budget-Friendly: Luxury vinyl flooring offers the look of high-end materials at a fraction of the cost. Eugene homeowners can enjoy their desired aesthetics and quality without breaking the bank.
When you choose luxury vinyl flooring for your Eugene home, you're investing in style, durability, and practicality. It's the perfect flooring solution to enhance your home's beauty and functionality in this dynamic Pacific Northwest city.
Luxury Vinyl vs. Laminate Flooring: Making the Right Choice
When it comes to choosing the perfect flooring for your space, it's important to understand the key differences between luxury vinyl and laminate options:
Luxury Vinyl Flooring:
Material Composition: Luxury vinyl is typically made of synthetic PVC materials, offering remarkable moisture resistance, and is ideal for wet areas like bathrooms and kitchens.
Appearance: LVT and LVP closely mimic the look of natural materials like hardwood, stone, and ceramic, often with more realistic textures and patterns.
Durability: It's known for its exceptional durability, thanks to multi-layered constructions, making it highly resistant to wear and tear and suitable for high-traffic areas.
Comfort: Luxury vinyl offers a softer and warmer feel underfoot than laminate.
Laminate Flooring:
Material Composition: Laminate is constructed with a fiberboard core and a photographic layer, topped with a protective wear layer. It is less resistant to moisture compared to luxury vinyl.
Appearance: Laminate can simulate the look of wood, stone, and tile but may have less realistic textures than luxury vinyl.
Durability: While durable, laminate can be more susceptible to scratching and damage in high-traffic areas than luxury vinyl.
Installation: Laminate often uses a click-and-lock system.
The choice between luxury vinyl and laminate depends on moisture resistance, aesthetics, durability, and ease of installation. It is important to consider your specific needs when selecting the right flooring for your space.
Professional Luxury Vinyl Flooring Installation
Choose our experts for seamless luxury vinyl flooring installation. From kitchens to bathrooms, our experienced technicians handle projects of any size, ensuring minimal disruption to your routine. While some prefer DIY, luxury vinyl flooring installation demands professional expertise. Our skilled technicians focus on the details, guaranteeing the long-term beauty of your luxury vinyl tile.
Every installation is carried out by trained professionals, ensuring it's done right the first time, and backed by our Ultimate Confidence Guarantee. Trust us to complete the process once you've found the perfect flooring materials for your space. We're here to ensure you can fully enjoy your new luxury vinyl flooring.



Contact us to discover the benefits of installing vinyl flooring. We proudly serve Springfield, Junction City, Harrisburg, Albany, and Eugene, Oregon residents.