Karastan Carpet in Eugene, OR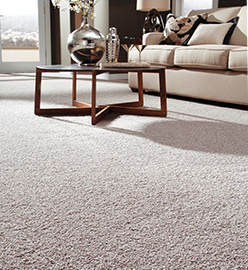 Are you looking for the perfect new flooring for your home's bedrooms, living room, or office? Visit our flooring showroom to choose from our full selection of Karastan carpet in Eugene, OR. Our sales staff is always happy to discuss your project with you and help choose the best carpet style to suit your style budget. Plus, we offer low Karastan carpet prices so you can stay on budget.
Karastan carpets are well-known for their durable and comfortable quality, artistry and craftsmanship, and reasonable cost. When you choose a Karastan wool carpet style from our showroom, you know you're certain to enjoy its style, durability, and comfort for many long years to come.
Quality and Style Suitable for Any Room
From the living room or dining room to the bedrooms and home office, Karastan carpets are an ideal choice for any interior décor style or home renovation budget. Our Karastan carpet dealers have in-depth knowledge of every style we carry and are here to help you choose the best carpet to suit your needs. Whether you're looking for a plush, neutral style to provide a blank canvas for decorating or you need a durable wool carpet style in a vivid color for your children's' rooms, our showroom is sure to have something to suit every project.
When it comes to comfort, there's no substitution for true quality, and Karastan wool carpets provide top quality for any room that demands comfort as well as style. Whether you're upgrading the old, dusty carpet in your home office or updating from hardwood to carpet in the living room, our showroom has a Karastan carpet style that is sure to meet all your requirements.
Schedule Installation with Our Skilled Professionals
Once you've discussed your renovation or remodeling project with our dedicated and knowledgeable sale and design experts and chosen your carpet, be sure to schedule installation with a skilled professional. In addition to low Karastan carpet prices, we offer expert installation so you can protect your new investment. When it comes to carpet installation, it's best to leave the task to an expert to protect your new flooring. Our professionals will properly remove your old flooring, prepare the subfloor, and install your new carpets so they look and perform great for many long years. Stop by our flooring showroom to choose your new flooring and schedule installation.

Contact us to learn more about our wide selection of Karastan carpets. We proudly serve clients in the Eugene, Oregon, area.