News and Technology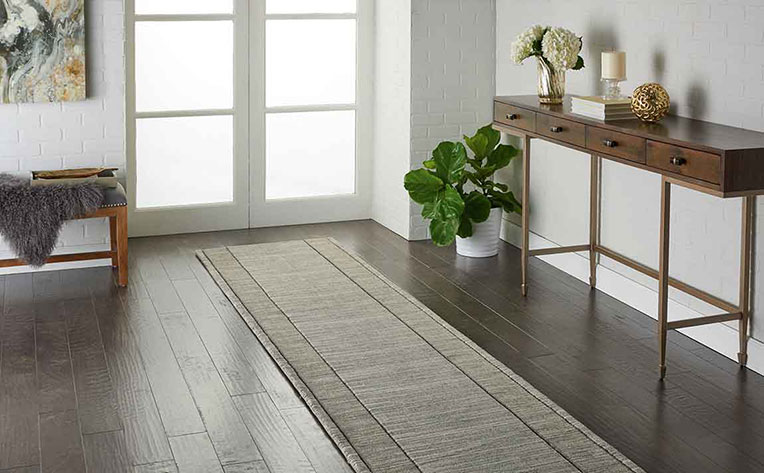 Nov 11, 2019
When you're a homeowner, you're responsible for all sorts of maintenance duties, from dealing with plumbing and heating issues to keeping your chimneys and gutters clean. One area where many homeowners run into trouble is flooring insulation. There's a disconnect between what many homeowners call insulation and what it actually is, this is because what most think of as insulation is actually underlayment.
If you're ready to learn more about the differences between insulation and underlayment and where the two overlap, then let's dive in!
What Type of Insulation Is Best for Floors?
What is Flooring Insulation?
Simply put, insulation is material used to help your home trap heat and retain warmth during those chilly winter months. If you live in a hot climate, you might be thinking, why do I need insulation? The answer is that insulation can also help keep heat out and cool air in, making your home more energy-efficient — and, as you're sure to notice on your monthly electric bill, more cost-efficient, too. Plus, insulation can inhibit the growth of mold and mildew, which is always a bonus in hot, humid climates.
Insulation is packed into your building's structure to provide thermal protection from the elements. Flooring insulation is insulation that is installed under the subfloor between floor joists, which are the horizontal structures that provide a firm framing foundation for a subfloor. This is the same type of insulation that can be found in the walls of a home.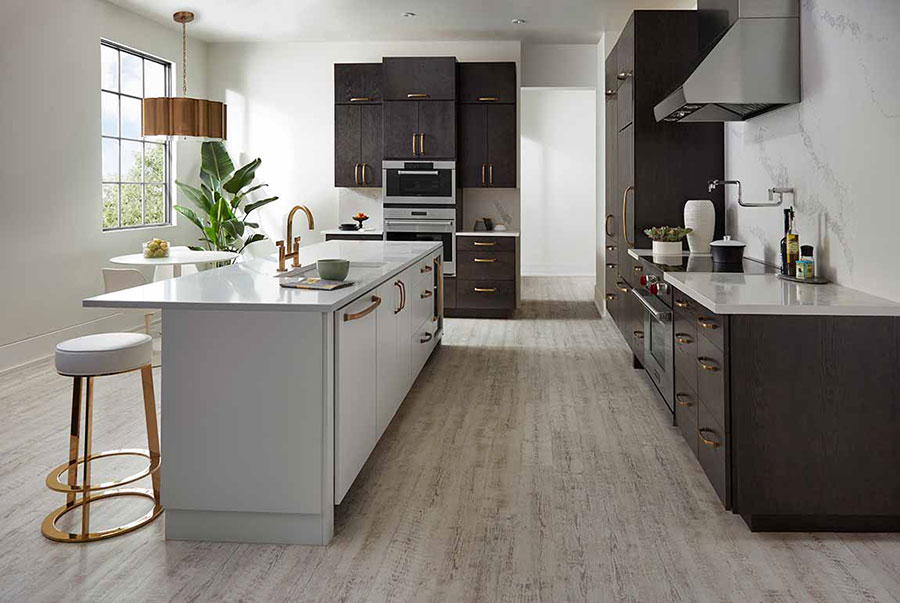 What is Underlayment?
The material that is installed underneath the top layer of flooring is actually called "underlayment." Underlayment sits just above a subfloor and right below your flooring. Underlayment is applied during the installation of new flooring material. The knowledgeable installer will know how and where to place this material. Underlayment is not only an insulator, but it also has many other beneficial purposes.
The Difference between Flooring Insulation and Underlayment
Insulation is used between joists underneath a subfloor and is often applied during construction of the home. Underlayment (as its name suggests) is layered directly beneath your flooring to help buffer sound, add protection from moisture, and create a smoother flooring surface -- compensating for any unevenness in a subfloor. And yes, it can also help better insulate your floors, but insulation and underlayment are two different products.
Does Underfloor Insulation Make a Difference?
In short: yes! Experts estimate that as much as 15% of heat loss occurs through the floors of your home. By choosing a quality floor underlayment when purchasing your new floors, you can prevent unnecessary heat loss, slashing your energy bills in the process.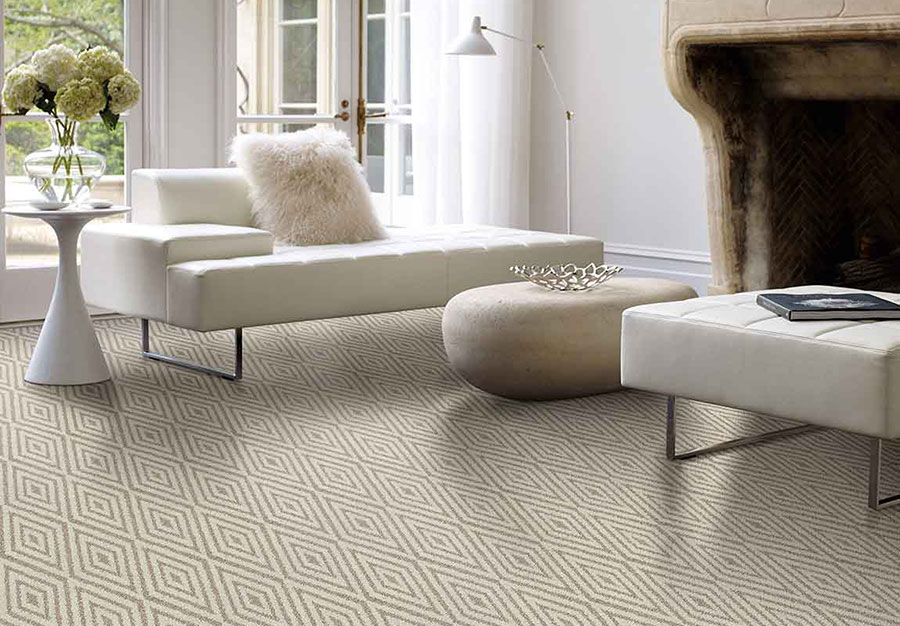 Should I Insulate My Floor?
Ultimately, the decision to insulate your floors comes down to each individual homeowner. However, we strongly recommend using underlayment beneath your flooring due to the benefits it can have for your home. Underlayment can help insulate your floors and is critical to saving heat while keeping your home comfortable. With that in mind, it's often best left to professional installation teams to tackle the project.
What Type of Underlayment Is Best for Floors?
Underlayment comes in a variety of materials, including poly foam, silicone, and even eco-friendly recycled materials (such as rubber and foam composites). Different types of underlayment can also work with your flooring to deliver a quieter tread on your floors when walking, provide insulation, and level out an uneven subfloor. Choosing the right type of underlayment depends on the type of floors and subfloors you are installing it between, and the amount of insulation you require against sound and the elements.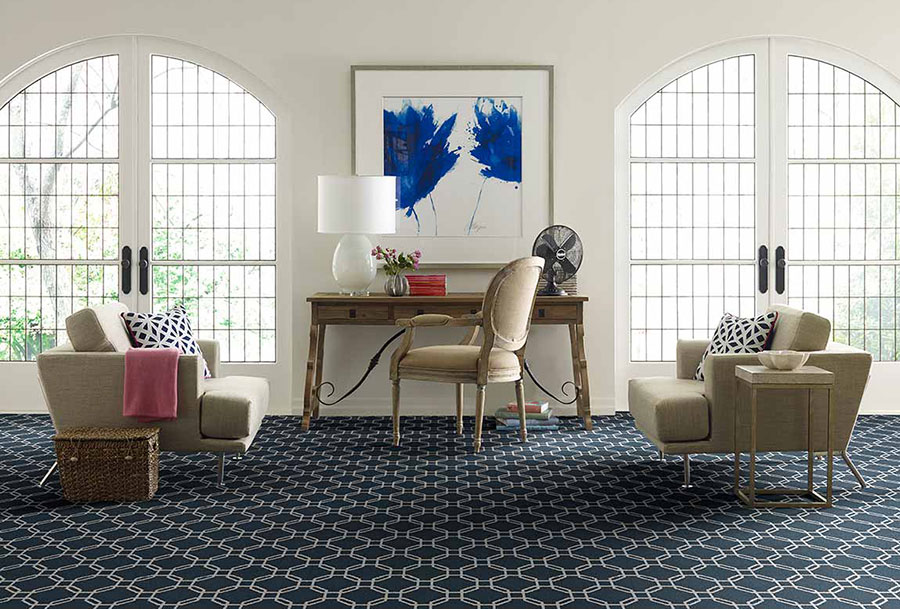 Need Help Installing Floors in Your Home? Ask the Experts at Flooring America
What type of underlayment should you use? How many inches thick? How do you install it? And how do you avoid damaging your floors in the process?
When you work with Flooring America, you don't have to worry about these questions. Our team of professional flooring installers will handle all the heavy lifting for you — literally. All you have to do is relax and enjoy the savings on your energy bill.
Need to get more flooring ideas first? Our design blog has dozens of articles to help you get started — or, check out My Design Finder to see visual examples of style in action. Whenever you're ready to tackle your insulation project, we'll be here to help. Contact us online to get started, or call Flooring America at (866) 439-6743.
Continue Reading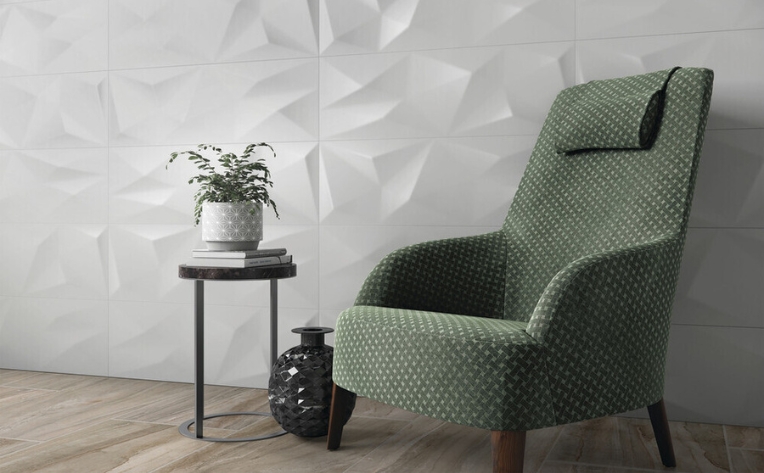 Sep 03, 2019
Let's face it — selling your house is a major undertaking. The pressure and stress can feel overwhelming, especially for first-time homebuyers who have never been through the process before. But don't worry: we've put together a simple, step-by-step checklist to help make selling your home faster and easier. If you need advice on how to get your house ready to sell fast, you've come to the right place. Keep reading for our tips!
Checklist for How to Get a House Ready to Sell Quickly
How to Get Your House Ready to Sell
What should you do before selling your house? That's a question we are asked all the time, and if you're preparing to move, it's probably the most important question you can ask yourself right now. Use our checklist to make sure you have taken the right steps.


Checklist for Preparing Your House to Sell
Below, you'll find an easy checklist for getting your house ready to sell. Don't skip steps, because each one is important. Remember, every item you cross off the list brings you one step closer to your dream home!
Research the Neighborhood
The real estate market is a fast-paced, competitive place, so if you want to get the best price for your house, not to mention the best value on your new home — you need to do your research. Check out reputable websites like Realtor.com to get a realistic sense of asking prices based on factors like square footage, neighborhood, and design features (such as swimming pools or hardwood floors).
Get a Real Estate Agent
Now that you know what sort of price to ask for, your next task is to find a real estate agent. The agent's job is to show your house, deal with real estate documents, and ultimately, help you get a better price. Be sure to choose a responsive, trustworthy agent who comes with plenty of positive feedback and relevant experience.
Clean up the Clutter
Unless you're Marie Kondo, this step might be a drag, but it's also one of the most critical. No one wants to move into a home that looks dingy, dirty, or cluttered, which means it's up to you to ensure that the space looks as neat and inviting as possible. Vacuum floors, scrub dishes, dust surfaces, polish tables, spray windows, sort toys, fold clothing, take out garbage, fluff pillows, wipe down sinks, and remove odors.
Update Flooring
Flooring is not only a major factor in the property value of your home, it is also extremely appealing to potential buyers. Most homeowners know they can easily redecorate a new home, but would be much less willing to invest in a home with worn flooring. During the process of selling a house, it is important to evaluate the impact of flooring on the pricing and the ability to sell your home quickly. While hardwood is a popular and desirable choice, quality and durable flooring tend to increase value and the likelihood of swaying a potential homebuyer into taking the plunge.
Style and Stage Your House
Staging is the process of making your home as attractive as possible to potential buyers. Tips for staging a home include removing personal decor, using neutral colors, and highlighting storage space. See our blog post on how to stage and style your house for in-depth advice on boosting your property's curb appeal and asking price.
Find a Photographer for a Professional Home Photo Shoot
No one will know that your home is gorgeous unless they can see high-quality, high-resolution images. Avoid using photographs that are small, grainy, blurry, dark, or blown out. It's worth hiring a photographer to ensure that your home puts its best face forward. Otherwise, what was all that cleaning and staging for?

Need More Tips for Getting Your House Ready to Sell? Flooring America Can Help
Selling your home is a huge task, but you don't have to go it alone. Let the design and flooring experts at Flooring America help you make style decisions that can boost your home's sale value. Check out our blog on increasing the property value of your home, or use My Design Finder to see thousands of bedrooms, bathrooms, kitchens, basements, and more. If you're ready to give your home's flooring a makeover, contact us online to learn how we can help, or call (855) 808-9858 to get started.
Continue Reading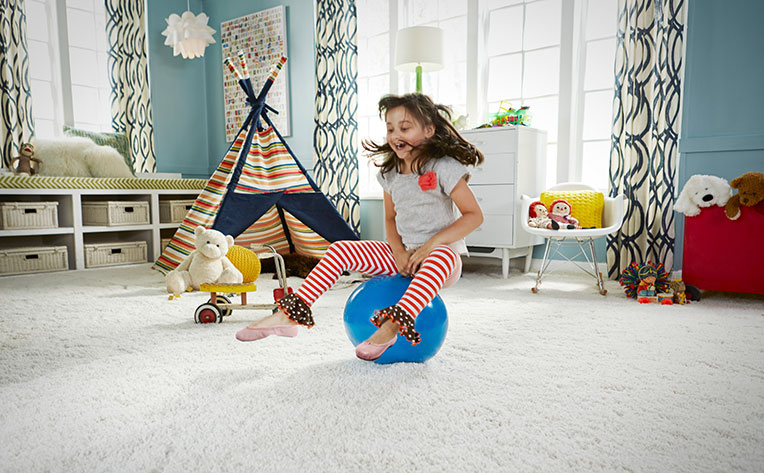 Aug 26, 2019
Stainmaster is one of the best-selling and most trusted carpet brands in America. But what sets Stainmaster apart, and why are the products so popular? We answer all your most commonly asked questions about Stainmaster carpeting, including what Stainmaster carpets are made of, where Stainmaster products are made, how to keep your Stainmaster carpet clean, and where you can buy Stainmaster brand products.
Keep reading to learn everything you need to know about choosing, purchasing, and maintaining the perfect Stainmaster carpet for your living room or bedroom.
What is Stainmaster Carpet and What is It Made Of?
What is Stainmaster Carpet?
"Stainmaster carpet" refers to any type of rug or carpeting manufactured by the brand Stainmaster, which also offers hardwood flooring and home cleaning products. Like the brand name implies, Stainmaster carpets are specially engineered to provide superior, long-lasting stain resistance.
Stainmaster partners with a select, hand-chosen network of flooring retailers located throughout the United States, where customers can buy a wide range of Stainmaster products from knowledgeable flooring experts. Shopping at a flooring retailer, like Flooring America, ensures that you get a quality price and product, with no risk of knock-offs.
What is Stainmaster Carpet Made Of?
You probably don't buy food without glancing at the ingredients first. That's because you know high-quality ingredients make for a high-quality product, and when it comes to carpeting, one of the highest quality products available on the market is Nylon 6.6.
On the cutting edge of carpet technology, Nylon 6.6 is reinforced with Teflon, the same material that helps non-stick pans repel grime and grease so effectively. Thanks to Nylon 6.6 and other components of Stainmaster's high-tech formula, Stainmaster carpets are highly durable and soil-resistant, outlasting and outperforming carpets made with less advanced materials.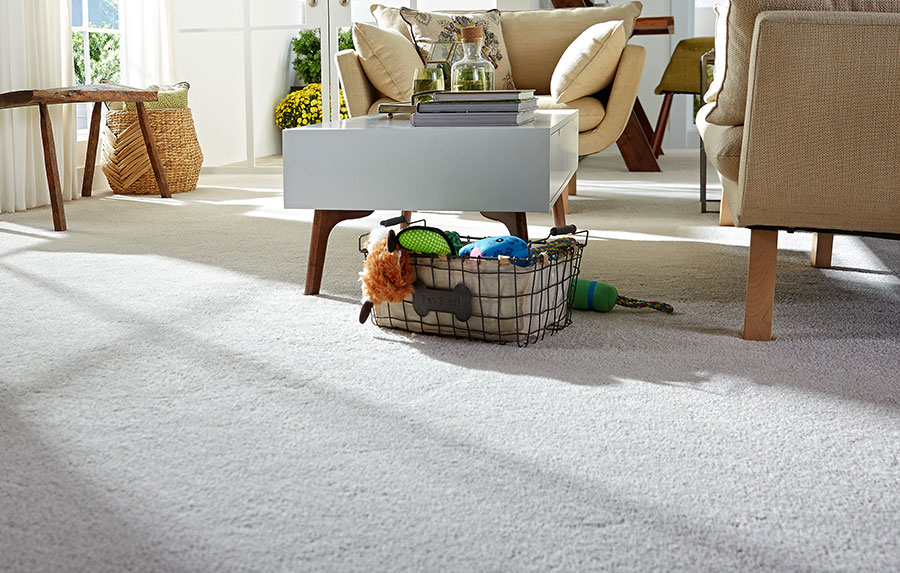 Where is Stainmaster Carpet Manufactured?
Stainmaster carpets are proudly manufactured in the U.S.A. Many of our products are made in Dalton, Georgia, which is sometimes called the "Carpet Capital of the World." In fact, more than 150 different manufacturing plants produce carpets in Dalton today.
How to Spot Clean Stainmaster Carpet
To keep your Stainmaster carpet in top condition, you should treat any spills or stains as soon as possible. But thanks to Stainmaster's stain-resistant technology, there's no need to go crazy with scrubbing and vacuuming. Simply blot the soiled area using warm, soapy water, then pat dry to soak up excess moisture. For best results, start at the outer edge of the stain and work your way inward, which will avoid spreading the stain from its original area.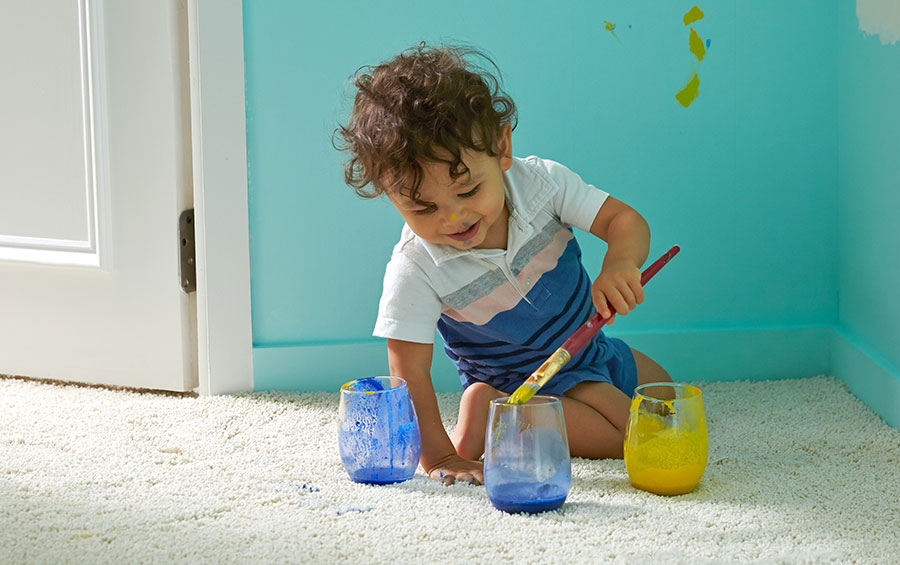 Is Stainmaster Carpet Worth It?
Stainmaster is known as a premium, luxury brand that delivers vivid color, plush texture, and of course, superior stain resistance. Produced in the U.S.A. using top-of-the-line equipment and materials, Stainmaster carpets are engineered to last, setting industry-leading standards since the brand's debut more than 30 years ago.
For these reasons, Stainmaster is not necessarily a budget option. However, though the up-front costs can be slightly higher, Stainmaster carpets tend to pay for themselves over time. Thanks to their stain-resistant qualities, Stainmaster carpets need to be cleaned and replaced less often than other types of carpets, saving time and money.
Still wondering whether it's worth it? Just ask the millions of homeowners who have made Stainmaster one of the leading carpet brands in America today.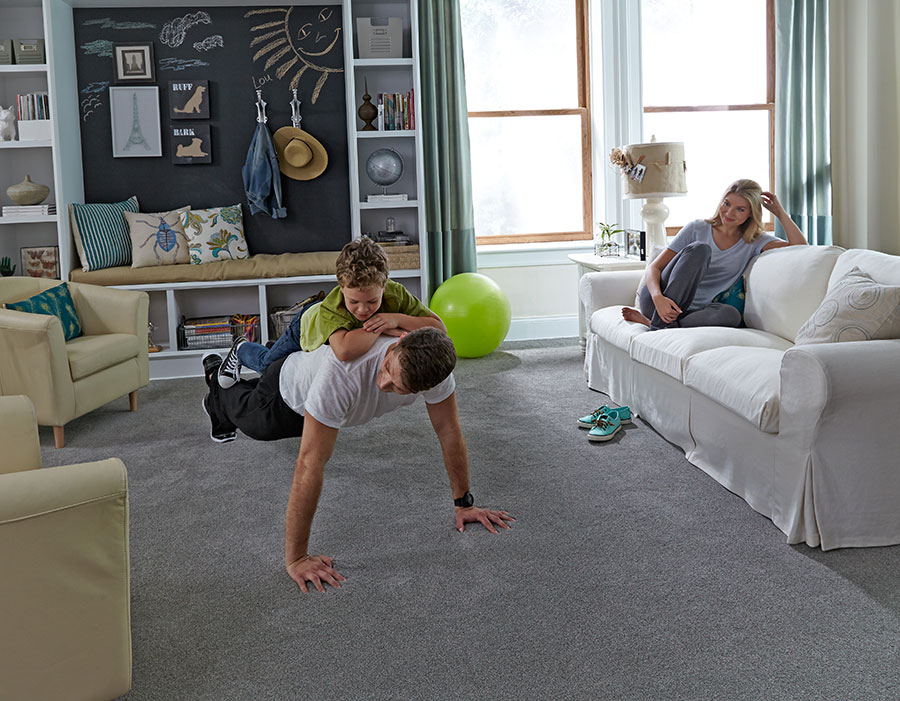 Get Stainmaster Carpet for Bedrooms and Living Rooms at Flooring America
Find out why Stainmaster is one of the most popular carpet brands in America. Visit any Flooring America location to learn more about stain-resistant flooring and see it in action, or check out examples using My Design Finder. No matter what you're looking for, we're here to help you choose the right product for your needs. We can even install Stainmaster carpets in your home, making the process of upgrading your floors easy and stress-free. Contact us online today to learn more, or call Flooring America at (855) 808-9858 to get started.
Continue Reading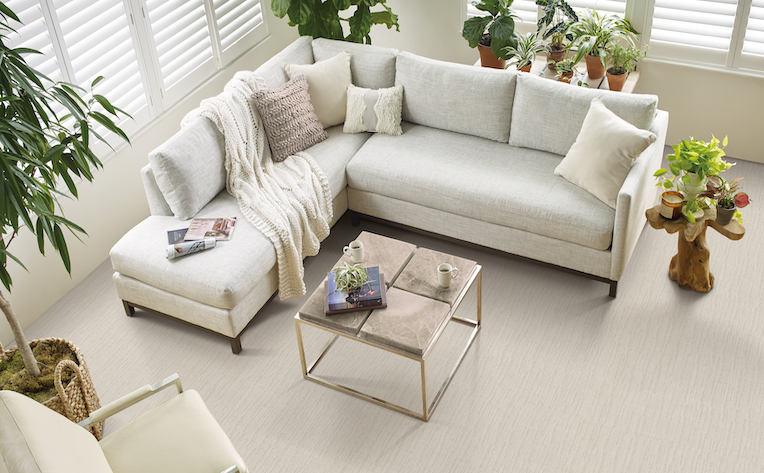 Jun 17, 2019
"I love the soft, plush feel of carpeting under my feet, especially on those chilly winter mornings — but I hate how tough it is to scrub out spills and stains! If I drop something on the floor, or if my pet has an accident, cleaning will probably be impossible. Maybe I should just choose something different, so that I don't have to worry about staining."
Do these thoughts sound familiar to you? If your answer was "yes," we have great news: thanks to advances in flooring technology, today's carpets are available in stain-resistant varieties, that make cleaning and maintenance a breeze. Read on to learn more about how stain-resistant carpet works, which carpets offer the best protection against stains, and what to expect when you're planning your budget. Then, ask the flooring experts at Flooring America how we can help bring your design dreams to life.
What is Stain-Resistant Carpet and How Does it Work?
What is Stain-Resistant Carpet?
Unfortunately, scientists haven't yet figured out a way to produce completely stain-proof carpeting. (Apparently, that's a tougher challenge than sending astronauts into space!) The good news is that stain-resistant carpet, though not guaranteed against all staining, makes it faster, simpler, and easier to keep your carpets looking as fresh and bright as the day they were purchased.
Another advantage of stain-resistant carpeting is that, since it's less likely to be ruined or damaged, you're less likely to need replacement carpets in the future. That means you save time and money — while still enjoying the cozy warmth you crave.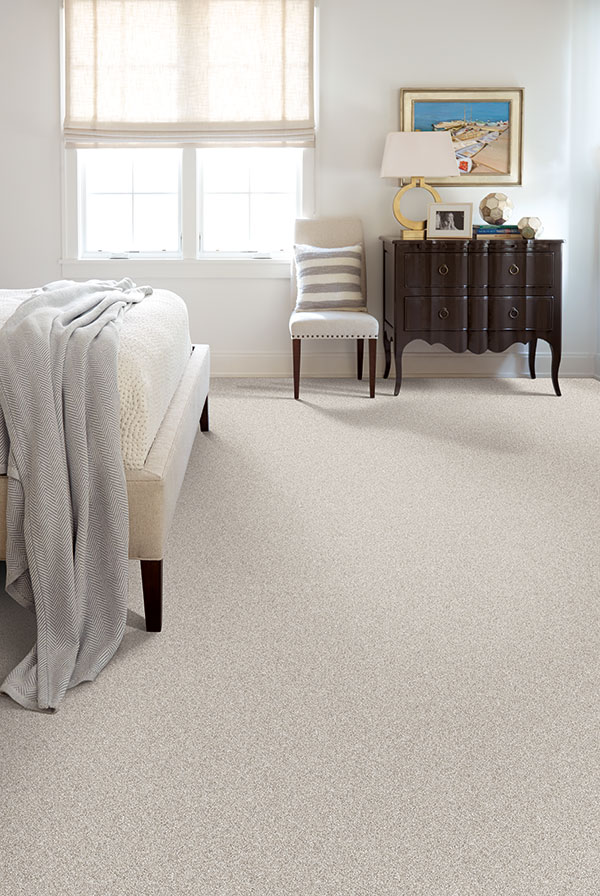 How Does Stain-Resistant Carpet Technology Work?
There's no question that stain-resistant carpeting offers superior stain protection compared to standard carpets. But how does stain-resistant carpet work? Let's take a closer look at the technological nuts and bolts that make these innovative products, so effective at protecting against spills and other messes.
Today in the United States, most interior home carpeting products are made using nylon, a synthetic "polymer" (plastic) prized for its smooth texture, waterproof qualities, and ability to withstand damage from mold or insects. Taking advantage of nylon's durability and versatility, some carpet manufacturers go an extra step during the production process, adding a chemical coating that makes it difficult for food, mud, pet urine, and other messes to penetrate the fibers through the coating.
The result? In most cases, you can prevent spills from becoming stains simply by applying soapy water before the stain dries. Of course, you should always follow the manufacturer's recommendations to achieve the best results. For example, most manufacturers warn against using bleach, which can damage the protective coating (or even make stains worse).
While most stain-resistant carpets are nylon-based, there are certainly other options to choose from — not to mention stain-resistant non-carpet options, such as luxury vinyl. Flooring America offers a wide range of fabrics and materials to help you find the perfect fit.
What is the Best and Most Stain-Resistant Carpet?
When it comes to carpets that stand up to stains, you only want the toughest, most popular, best-performing products. At Flooring America, we're proud to carry a variety of trusted, leading names in quality home carpeting.

Here are a few options to consider when shopping for stain-resistant carpets: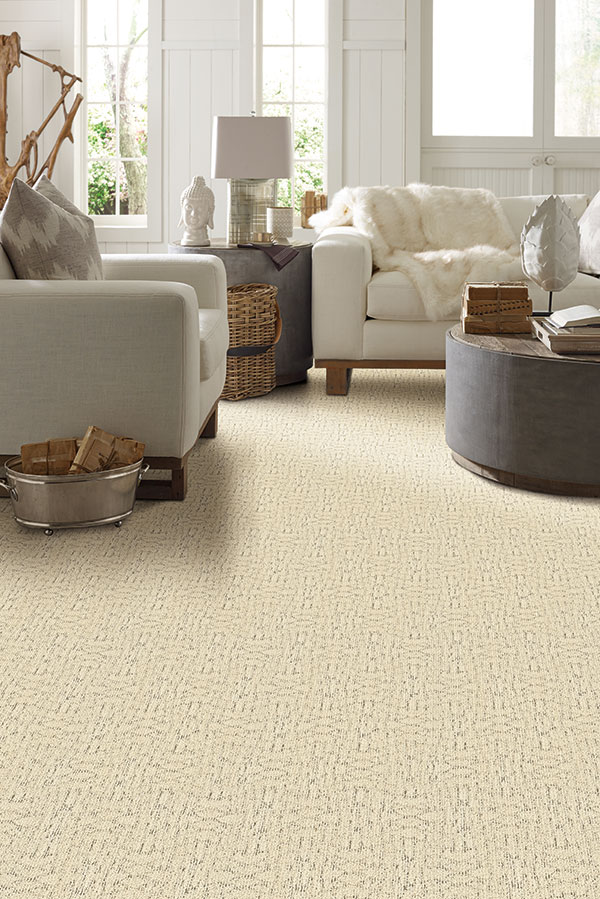 How Much Does Stain-Resistant Carpet Cost?
Without knowing the details of your flooring project, it's difficult to estimate how much it will cost, because the answer depends on how much carpeting you need and which type of product you choose. That being said, stain-resistant carpet is probably more affordable than you think!


For more information about stain-resistant carpet prices, visit your nearest Flooring America location. We'll help you compare prices, weigh options, and get a great deal on a quality product.
Find Stain-Resistant Products and More at Flooring America
At Flooring America, we're committed to providing homeowners with unique products, friendly service, and great prices. That's why we're proud to offer stain-resistant carpets , which are available in all sorts of varieties and brands that fit your lifestyle at our convenient locations throughout the U.S.
Continue Reading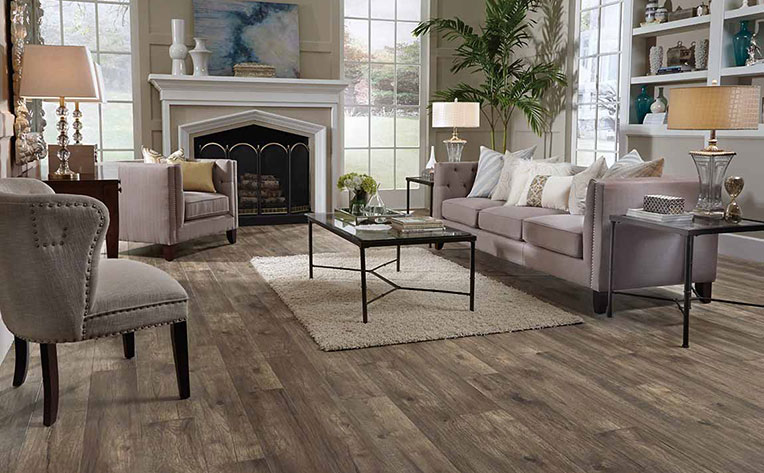 May 20, 2019
Previously, we talked about the benefits and advantages of area rugs, which include warmth, comfort, noise reduction, and protection for your floors. This time, our flooring experts are sharing a few simple tips on how to choose an area rug for your living room, your dining room, your bedroom, or any other space in your home or apartment. Whether you're a renter or a homeowner read on to get helpful, practical design advice on selecting the right color, pattern, and size for your new area rug.
How to Choose an Area Rug for Any Room in Your Home
Choosing a Rug Size for Any Room
The beauty of interior design is that no two homes — or homeowners! — are exactly alike. Everyone has their own unique idea of what makes the "perfect" area rug, depending on factors like cost, brand, and style preferences. To find the right area rug for your space, you'll need to pay careful attention to three important details:
Rug Size

Rug Color

Rug Pattern
Let's get started by taking a closer look at how to choose the right size area rug for any room in your home.
The first step to finding the perfect rug size is to get an accurate feel for the size and dimensions of your space. However, it's not necessary to measure the entire room from wall to wall. Instead, a good tip is to simply measure the area around the seating arrangement (or other area where you plan to place the rug). If you don't have a tape measure, there are plenty of phone apps to help out in a pinch!
Generally, it is good to round up from the measurements of your furniture when choosing an area rug for any room. For example, if you measured roughly 5'6" x 7'4" around your chairs and table, look for a rug with dimensions of at least 6' x 8'.
A good rule of thumb when measuring a rug for dining room seating, is to choose a rug by the dimensions of your table. If the space in the room allows, try to purchase a rug that is the size of your table plus three feet. This ensures all legs of the table are on the rug and stable, while also accommodating pulling chairs in and our without catching the rug.
When measuring for a living room, you may also want to make sure the rug is large enough to touch the pieces around it. The furniture around the rug should appear to come in contact with the rug so that it anchors the entire room. For example, unlike the dining room, the couch does not have to sit completely on the rug.
At the same time, be sure to leave at least one to two feet of space (or more, depending on your personal preferences) around the outside of the rug. After all, it's meant to be an area rug — not wall-to-wall carpeting! If a wall-to-wall look is what you prefer, there are plenty of plush, comfortable carpet options ready to be professionally installed in rooms of any size. No matter what style of carpet you are looking for, the experts at Flooring America are always here to help.



Choosing a Rug Color
Now that you know how to choose an area rug size, the next step is learning how to choose an area rug color. Sure, you could simply go with your favorite shades — and if that's your style strategy, more power to you! But for those who prefer a more toned-down or color-coordinated look, it helps to follow a few simple design rules.
For example, many style experts suggest following the "60-30-10 rule." Here's how it breaks down:
60

— Roughly 60% of your room should be the "main" or "theme" color.
30

— About 30% of the color in the room will usually be a minor or secondary color. For example, if the room's main color is blue, the secondary color might be grey or white. Choosing an accent rug with a color from this group is usually a safe bet.
10

— About 10% of the color in the room comes from little touches and accents, such as decorations, wall art, or lamps and light fixtures. You can draw on these colors for inspiration in your area rug, too.
If that seems like a lot to remember or keep track of, don't worry. With My Design Finder, personalized style inspiration is just a few stress-free clicks away — no math or memorization required!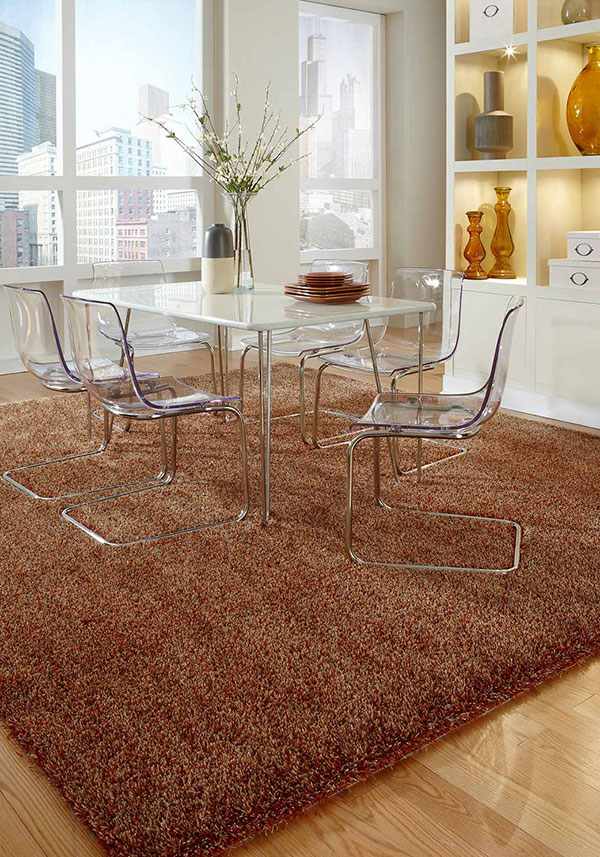 Choosing a Rug Pattern
Last but not least, you need to know how to choose an area rug pattern. Just like fashion mistakes, rug patterns can get way too "busy" — especially if there are clashing themes. To avoid visual chaos and give your eyes a break, check out the patterns, fabrics, and prints that are already in your space. If the room already incorporates patterns, it's probably best to take a muted approach — or to steer clear of prints altogether, opting for solid colors instead.
On the other hand, a bold pattern can breathe life into a space that feels like it's "missing something." If your space feels like it's lacking spirit, a fun pattern might be perfect to spruce things up while adding a personal touch. Go bold, understated, or somewhere in between. The sky's the limit with options like stripes, plaid, polka dots, and patterns inspired by nature, like bright floral patterns or faux tiger stripes.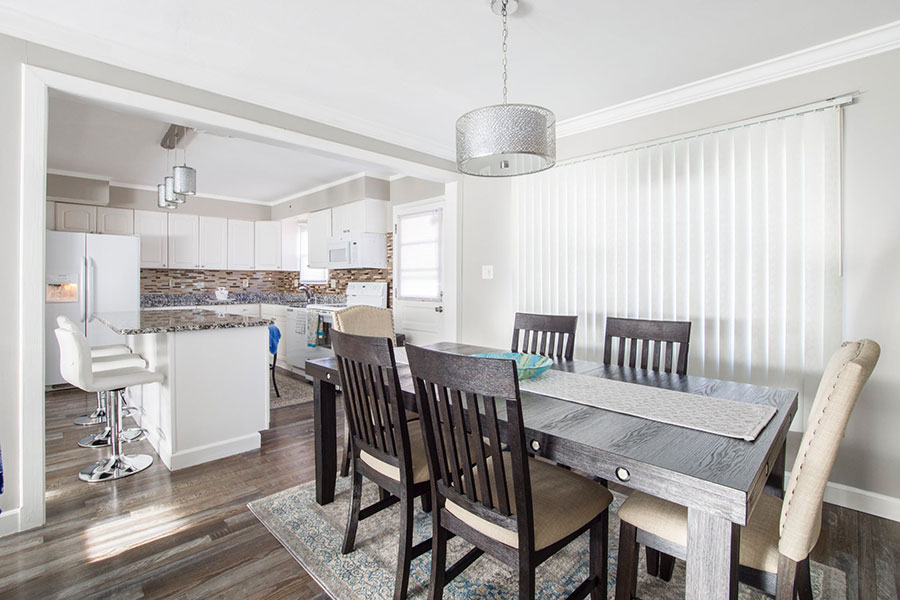 Get Area Rug Design Ideas from Our Carpet Guide
Whether you're looking for wall-to-wall carpeting, stain-resistant carpet, eco-friendly carpeting, or other plush flooring options, you'll find it in Flooring America's comprehensive carpet guide. We can guide you through every step of choosing the perfect carpet, and can even help with design and style ideas.
With convenient locations, affordable options, and quality brand-name products, your home flooring project is already off to a great start when you choose Flooring America. Contact us online today, or call us at (866) 439-6743 for friendly assistance.
Continue Reading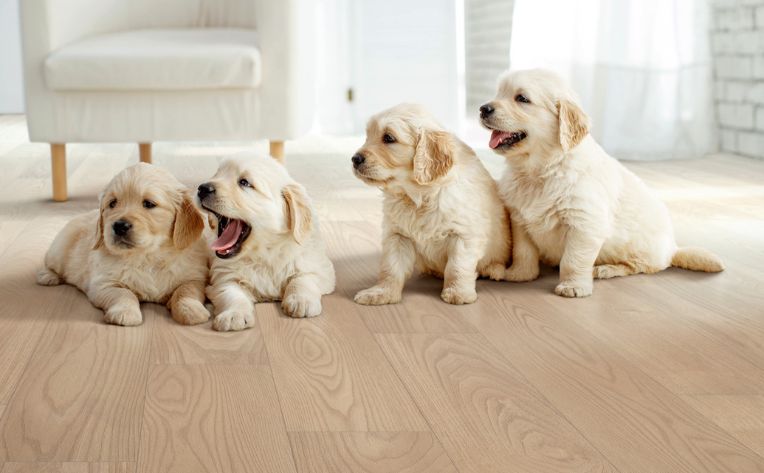 May 13, 2019
As a homeowner, you want flooring that provides comfort, offers durability and expresses your personality. But when you own pets, choosing the right flooring materials can be a real challenge. How do you keep your pet safe and comfortable, while simultaneously protecting your floors from moisture, staining, scratches, and damage?
Fortunately, the friendly flooring experts at Flooring America make it easy to find materials that are compatible with every member of your family — including Fido and Fluffy. Whether you're in search of the best flooring for pet urine, scratch-resistant flooring for dogs, or other pet-proof flooring options, read on to learn the basics and get some design ideas your furry friends will love.
What is Pet-Friendly Flooring and the Different Types of Pet-Proof Options
What is Pet-Friendly Flooring?
There are a few different factors to consider when shopping for "pet-friendly" flooring. Think about the following questions when you're comparing options:
Is it resistant to other types of damage or wear-and-tear? Scratches aren't the only source of pet damage. Stains, mud, and moisture can also take a toll, especially on hardwoods. If urine or moisture is your main concern, consider a line of waterproof products, like luxury vinyl.

Is it resistant to scratches?

Scratch marks are often a major concern for dog owners. Some scratch-resistant options include hardwoods (for example, cherry and walnut rate high on the Janka scale, read on for more details), stone tile, and luxury vinyl.

Will it be comfortable for your pet?

Pets appreciate a soft landing just as much as their owners — especially ones that like to jump! Plush, flexible flooring materials like carpet and cork offer more cushioning and support than hard materials like stone or wood.

Does it offer traction for your pet? Both dogs and cats need adequate traction, or the ability to "grip" the floor, to ensure that they can safely navigate your house. Some types of flooring provide more traction than others.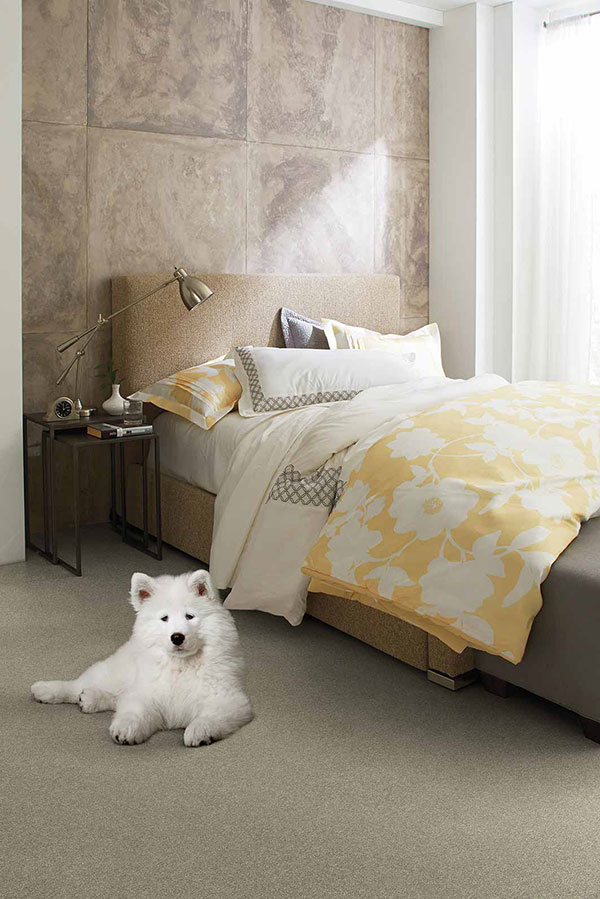 What Does it Mean for Flooring to Be Pet-Proof?
The phrase "pet-proof flooring" means that it has to be tough enough to withstand damage from urine, scratching nails, tracked-in mud, and other hazards to your home. Durable, waterproof, and easy-to-clean are the qualities in flooring that essentially make it "pet-proof". But pet-friendly flooring should not only satisfy your needs as a pet owner, but as a homeowner as well. Luckily there are plenty of flooring options that can satisfy every need, whether it is style or durability.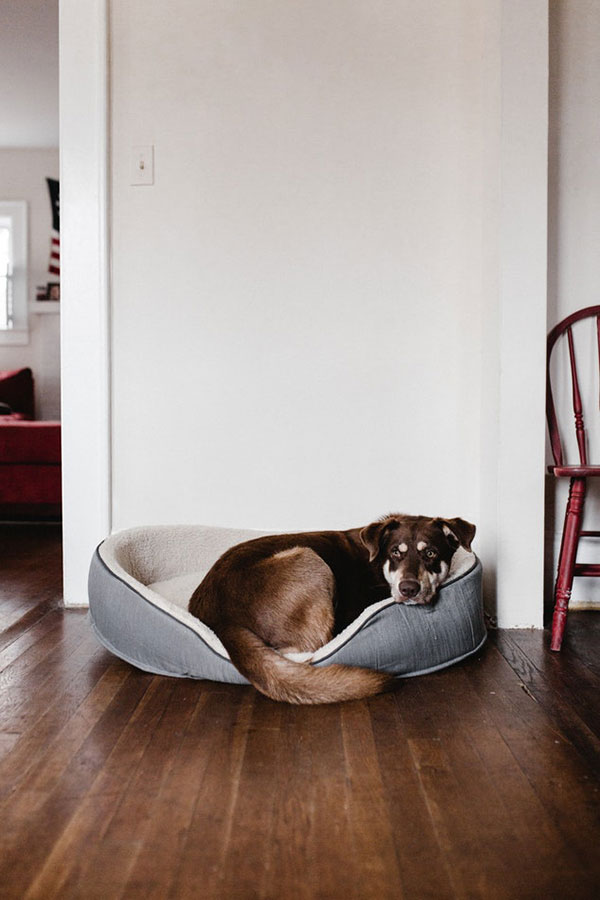 Scratch-Resistant Flooring for Pets
Pedicure, anyone? The wear-and-tear from scratchy dog nails can scar your floors for life — and burn through your wallet in the process. But don't worry: there are flooring options that are specially designed to withstand pet damage from those scratching, clacking nails. If you're searching for a scratch-resistant product, here are three options to consider:
Hardwood Flooring

— Certain species of hardwood are more resistant to scratching and denting than others. A good source to determine the hardness of a species is through the Janka scale. The higher the rating on the Janka scale the more likely the species is to hold up to pet scratches.

Luxury Vinyl Flooring — Luxury vinyl is waterproof, scratch proof, dent proof, and with the correct backing—sound dampening. This is the perfect flooring for pet owners. An embossed surface allows for traction under your pets' paws.
Stone Flooring — Stone is another easy-to-clean yet scratch-resistant flooring option, providing an elegant alternative to luxury vinyl.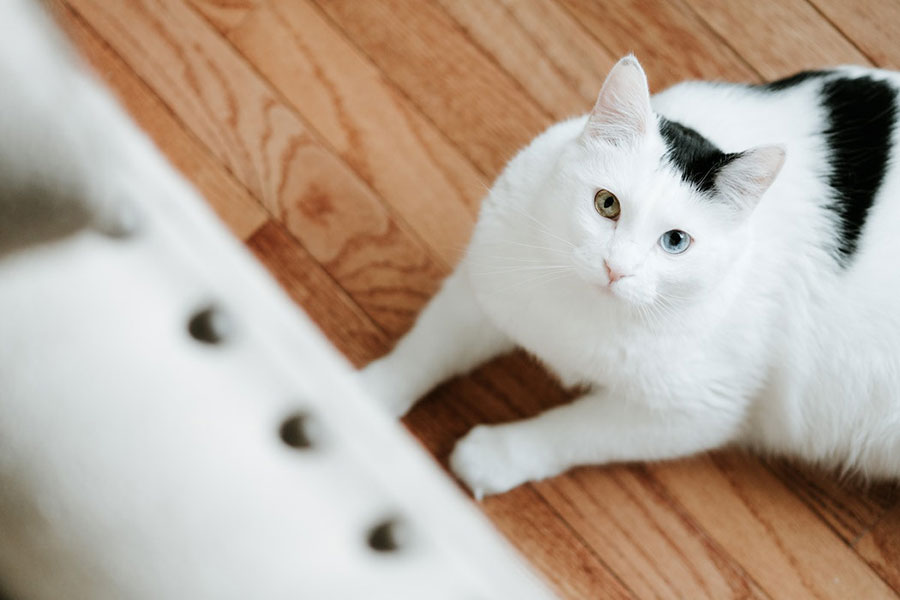 Waterproof Flooring for Pets
Accidents are a fact of life for many pet owners — especially those with new puppies or kittens. That's why all pet-proof flooring options are waterproof! Not only is this ideal for accident-prone pets; it also helps your floors withstand all those little spills and dribbles from the water bowl.
For waterproof flooring options, consider a product made with luxury vinyl, which comes in a huge range of colors and patterns. Luxury vinyl is tougher and more durable against moisture from urine, water, and other pet spills. With that being said, there are plenty of other water-proof and scratch-resistant flooring like treated hardwood, tile, and stone for every pet owner's budget and style.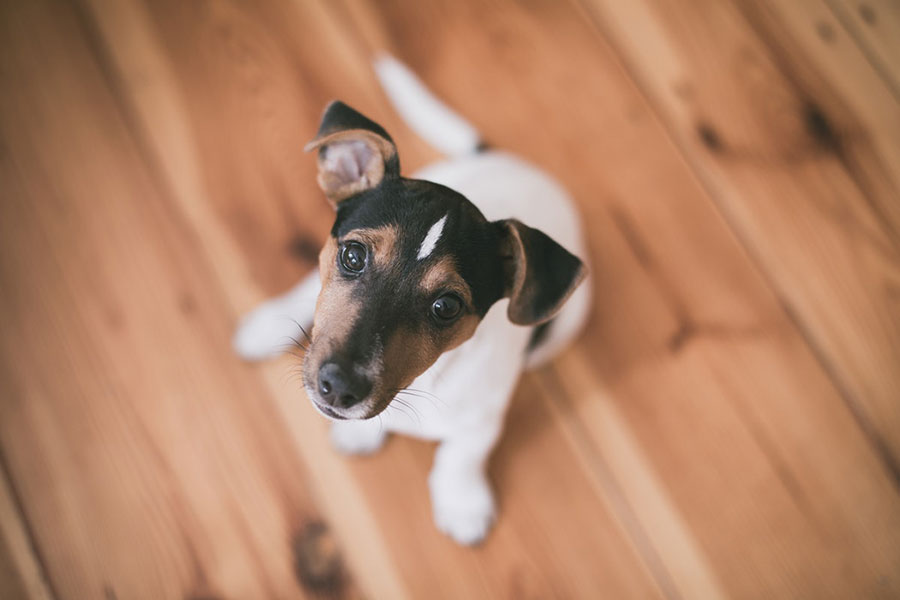 Types of Pet-Proof Options
When it comes to pet-proof flooring options, there are pros and cons to different materials. Our knowledgeable flooring experts are here to help you find the perfect balance. Depending on your needs and preferences, potential options include:
Hardwood floors
Laminate
Luxury vinyl
Waterproof carpet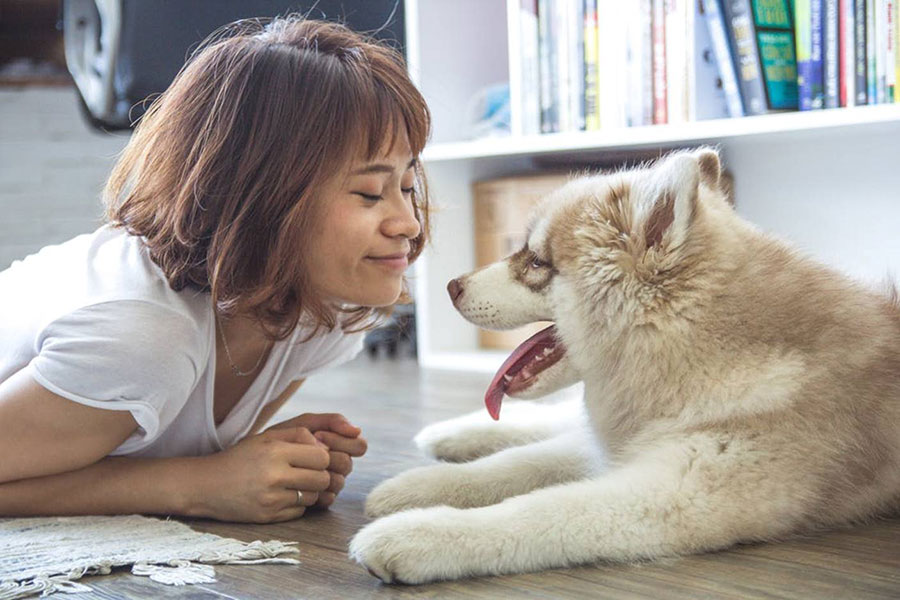 Pet-Friendly Flooring Options for Dogs and Cats
At Flooring America, we understand that your pet is like a member of your family. We're dedicated to helping you find a safe, comfortable, and attractive line of products that meets your needs — and your fluffy friend's. Whether your primary concern is preventing water damage, staining, claw marks, or all three, count on our friendly team of experts to deliver top-quality flooring for every room in your home.
You can find more information on our Best Pet-Friendly Flooring page, which will give you some pointers and tips for getting started. You can also contact Flooring America online, or give us a call at (855) 352-2837 to ask how we can help.
Continue Reading