Luxury Vinyl Tile in Eugene, OR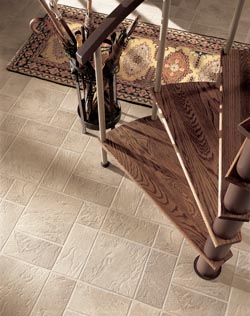 Find a wide selection of high-quality, low-cost luxury vinyl tile at our reputable flooring store. The LVT and luxury vinyl plank flooring available from our team emulates the appearance of such high-end flooring as hardwood, natural stone, and ceramic tiles. This revolutionary product, which mimics the appearance of elegant, costly floors, has made vinyl flooring into an industry-leading alternative for homeowners that want the look of a hardwood or tile floor without the cost and maintenance.
With our wide selection of styles, we are sure to have exactly what you need at the cost you want to pay. At a fraction of the cost of the flooring styles it imitates, luxury vinyl tile floors are an increasingly popular, long-lasting alternative for busy households. Today's luxury vinyl tile has grown into a highly desirable home upgrade because it looks as good as it functions. Be confident in your choice of luxury vinyl tile by working with our knowledgeable team. Some of the most popular benefits of vinyl flooring include:
Easy Upkeep
Resilience to Impact Damage
Low Costs
Resistance to Moisture & Staining
Variety of Designs & Styles Available
Resistant to Heavy Foot Traffic
Luxury Vinyl Plank Resembles Hardwood Flooring
Visit our showroom to peruse the luxury vinyl plank flooring we offer. This flooring option enables you to easily inject your home with classic appeal. Enjoy the appearance you want while paying a lower price by choosing our durable vinyl flooring options. These floors look good and are strong enough to prevent warping, moisture damage, and other issues that may arise with more delicate types of flooring.
Vinyl plank flooring, which is one of the most popular types of luxury vinyl flooring, is a great option for homeowners who want the appearance of a traditional hardwood floor in their home. This style features a variety of different designs and styles, including your choice of wood grain and staining levels.
Professional Luxury Vinyl Flooring Installation
After spending your valuable time shopping for the perfect flooring materials for your space, count on our team to finish your project for you. Our experienced contractors are available to perform a full luxury vinyl tile installation in spaces of any size. Whether you are adding our materials to your kitchen, bathroom, or entryway, we have the expertise needed to complete the job the right way the first time.
While many homeowners believe that a flooring installation only requires laying down a few tiles, the truth is that this job is best left to the professionals to handle. Failing to install your flooring the right way can lead to uneven tiles and other issues. Prevent these problems from occurring by turning to our professionals to take on your installation services. We focus on the details to ensure that every phase of your job is completed to the highest standard.
The installation of your new vinyl floor is as important as picking out the right type of floor to have installed. Our professional luxury vinyl tile installers ensure that every piece of tile or plank is properly and efficiently installed to ensure your floor looks great and lasts long. You can be 100 percent confident in your new flooring when you work our affordable installation team. Every luxury vinyl flooring installation is backed by our Ultimate Confidence Guarantee, which means if you aren't satisfied with your floors within 30 days of the install, we'll replace them at no charge to you.
Classic Looks in LVT
When you are ready for a change at your home, you may think your only option is to undergo a full remodeling project. However, you can achieve your design goals by simply installing a new set of floors. For example, luxury vinyl plank mimics hardwood right down to the knots, grain patterns, and whorls. Our collection of luxury vinyl tile comes in styles that are made to resemble natural stone and high-end tiles. This flooring product offers homeowners the durability they need plus a stunning look for years to come.
Whether you already have an idea in mind or you need some extra inspiration for your flooring, you can count on us to give you the look you want. Our selection of LVT flooring includes endless options that fit with any décor setup. During your visit with us, our sales team is happy to sit down with you to discuss all of the products that we carry. When you work with us, you can count on us to provide you with flooring that fits your preferences.

Contact us shop at our showroom for your new luxury vinyl tile and plank floors. We proudly perform a luxury vinyl tile installation for homeowners throughout Junction City, Springfield, Harrisburg, Corvallis, and Eugene, Oregon.