What We Love About Luxury Vinyl Tile in Eugene OR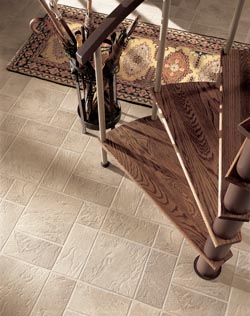 Explore a bountiful selection of luxury vinyl tile in Eugene, OR, at Imperial Floors. The vinyl tile and plank flooring available from our flooring showroom emulates the appearance of high-end flooring such as hardwood, natural stone, and ceramic tile. This revolutionary product, which mimics the appearance of elegant, costly floor coverings, has made vinyl flooring into an industry-leading alternative for homeowners who want the look of a hardwood or tile floor at a lesser cost and with little maintenance.
With our wide selection of styles, we are sure to have exactly what you need because luxury vinyl is an increasingly popular alternative for busy households. Today's luxury vinyl tile has grown into a highly desirable home upgrade because it is as beautiful as it is functional. The top benefits of LVT include the following:
Easy Upkeep
Resilience to Impact Damage
Lesser Cost
Resistance to Moisture & Staining
Variety of Designs & Styles Available
Resistance to Heavy Foot Traffic
Luxury Vinyl Plank Resembles Hardwood Flooring
Visit our showroom to see the luxury vinyl plank flooring we offer. This flooring option enables you to give your home a classic appeal. Enjoy the appearance you want and the durability. These floors are made to resist scuffs and scrapes, as well as moisture damage. Vinyl plank is a great option for homeowners who want the appearance of a traditional hardwood floor. This style features a variety of different designs and styles, including your choice of wood grain and staining levels.
Professional Luxury Vinyl Flooring Installation
After spending your valuable time shopping for the perfect flooring materials for your space, count on our team to finish your project for you. Our experienced contractors are available to perform a full luxury vinyl tile installation in spaces of any size. Whether you are adding our flooring to your kitchen, bathroom, or entryway, we have the expertise to complete the job the right way the first time.
While many homeowners believe that a flooring installation only requires laying down a few tiles, the truth is that this job is best left to the professionals to handle. Failing to install your flooring the right way can lead to uneven tiles and other issues. Prevent these problems from occurring by turning to our professionals to take on your installation services. We focus on the details to ensure that every phase of your job is completed to the highest standard.
Contact us today to ask our sales and design consultants to help you choose luxury vinyl tile or plank for your home. We proudly serve the communities of Eugene, Springfield, Junction City, Harrisburg, and Corvallis, Oregon.