Luxury Vinyl Plank in Eugene, OR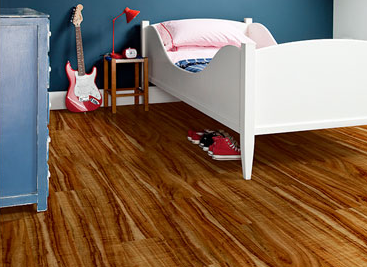 If you're ready to upgrade your home with the elegant look of wood for a cost-effective price, our luxury vinyl plank in Eugene, OR, is the right choice for you. Today's vinyl is a high-end flooring option that is available in several beautiful styles. Perennially one of our most popular flooring materials, vinyl planks add unparalleled sophistication to your living space. What's more, vinyl planks are waterproof, so they work just as well in your kitchen as in your living room and dining room.
With its appealing look and comfortable feel, vinyl planks are bound to stand out to you as an irresistible alternative to hardwood. Whatever your tastes, we can provide vinyl wood flooring to accommodate you. This versatile flooring complements virtually any indoor design motif. Come browse our collection at our highly recommended flooring showroom.
Resilient Vinyl Flooring That's Built to Last
Our vinyl planks are the perfect solution for your busy home. If you have children or pets, vinyl flooring is the durable option that looks like real wood. Our vinyl planks are some of the most resilient flooring materials sold on the market today. Vinyl withstands heavy foot traffic and doesn't easily succumb to wear and tear. Vinyl's toughness makes the beauty of its design and texture last for years.
Choose our vinyl wood flooring if you want to enhance your home or office with durable flooring whose attractive, authentic look stands the test of time. Affordable luxury vinyl is a popular choice for homeowners due in part because it is so difficult to stain or damage. Make your life easier and enjoy the vivid loveliness of no-fuss vinyl flooring with a hardwood look.
The Versatility of Interlocking Vinyl Flooring
Vinyl planks are increasingly preferred by homeowners who are interested in style and value. This material comes in many colors, textures, and finishes to suit a number of tastes—anything you need to make your interior design pop, you will find in vinyl planks. Thanks to today's advanced technology, vinyl planks look nearly identical to actual wood. You can have the eye-catching look of walnut, oak, maple, ash, and more at the affordable price you're guaranteed to love.


Trust Our Professional Luxury Vinyl Plank Installation
When you shop with us, the hardest part of your flooring project will be which of our plank options to select. After you've made your decision, our professional installers will take it from there. As with every flooring installation, vinyl planks come with their own unique challenges. Our experienced vinyl plank installation crew, though, knows how to do the job right the first time.

Contact our flooring store to learn more about our selection of luxury vinyl plank flooring. We proudly serve the communities of Eugene, Springfield, Junction City, Harrisburg, and Corvallis, Oregon.